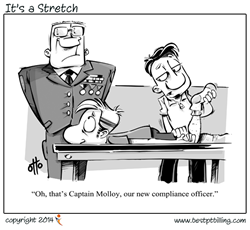 Physical therapy practice managers face severe problems posed by compliance issues such as the increased risk of audit failure, growing compliance complexity, and lack of time to learn and implement new procedures based upon new rules
Clearwater, Florida (PRWEB) February 23, 2015
BestPT's new short webinar reveals three effective methods to increase compliance in the office, thus saving physical therapy practice managers time and money. The webinar is available online and can be watched or listened to here at any time.
"Ninety healthcare providers were charged with compliance violations reaching $260 million in billing in May 2014. A growing number of practices are subjected to audits and penalties," says Reuven Lirov, Chief Practice Growth Officer at Vericle. "Physical therapy practice owners too struggle to maintain compliant practices against a tangled web of regulations from insurance companies, the government, Medicare, and Medicaid."
According to Lirov, mistakes and oversights in the office are a regular occurrence in most healthcare practices. "Physical therapy practice managers face severe problems posed by compliance issues such as the increased risk of audit failure, growing compliance complexity, and lack of time to learn and implement new procedures based upon new rules," says Lirov.
Lack of compliance is a serious issue that can lead to substantial loss of revenue and fines. For example, a practice might see 100 patients a day, or approximately 25,000 patients a year. Suppose just 0.4% of those visits (100 visits) are undocumented. Each of those unbilled visits would be marked as a "fail" in the audit, with a resulting penalty of $10,000 per line item -- or $1 million in audit penalties.
"Better compliance liberates physical therapy practice owners from worrying about fines and audits, and lets them get back to treating patients," says Lirov. "Physical therapy EMR software helps practice owners stay compliant and grow. Our average clients have seen substantial growth in their practices including an average revenue growth of 186%, patient growth of 141%, and patient lifespan increase of 86%."
According to Dr. Amy Vant, DPT, BestPT has built in safeguards that help maintain a more compliant office and simplify physical therapy practice management. "As therapists, we are continually looking out for the best interests of our patients. We don't really have the time to review our daily notes, evaluations, and billing documents to ensure that we have checked all of the right boxes and marked all of the right codes. We need a double-checker because we certainly don't have time to do it. With Best PT, I have found that everything I need in an evaluation or daily note is available and the system even cues me to testing items that I may have forgotten," says Vant in her article about physical therapy EMR onboarding experience.
Continuously increasing compliance requirements and lack of time do not excuse physical therapy practice owner during a practice audit. A short thirty minute webinar teaches the three most important practice management skills to save a physical therapy practice and avoid audit failure penalties. The webinar includes a demonstration of bestPT physical therapy practice management software. It contains automated features to discover the most frequent documentation errors that lead to compliance issues, such as undocumented visits, unsigned notes, and late billing. The software is also browser-based, so it can be changed as the law changes without inconveniencing the practice owner. Click here to sign up for the free webinar and find out more information.
About bestPT and Billing Dynamix, LLC
bestPT by Billing Dynamix, LLC is a comprehensive cloud-based Practice Management system that includes intuitive EMR, effective billing, scheduling, and powerful yet simple workflow management. Save documentation time and keep legible and compliant documents. Automate claims and leverage over 2.5 million coding rules spanning 2,500 practice-years of experience. Reduce administrative overhead and foster staff teamwork. bestPT is the ONLY PT clinic solution that reduces administrative time by 70% compared to industry averages – GUARANTEED. Complete practice management consulting and a rich array of integrated products and services round out bestPT product and service packages. Register for a private Demo+, and review our industry-leading guarantee at http://bestptbilling.com/