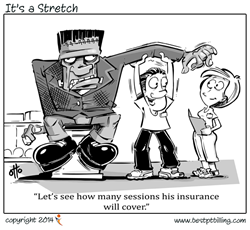 BestPT has streamlined all of our billing procedures, making our office more efficient and more profitable
Clearwater, Florida (PRWEB) April 16, 2015
bestPT's new claim management workbench simplifies payment tracking and follow up. It enables practice owners to keep track of claims, along with all other relevant work, in a single location. In the past, physical therapy practice owners used to analyze data from multiple reports and make individual decisions about the claim follow up strategy. The new claim workflow management console, which is now available in bestPT, helps practice owners create a systematic billing process that provides complete quality monitoring and control. Learn about it here.
According to Krystal Gonzalez, Billing Manager at Arizona Physical Therapy, Arizona's use of the bestPT system is the reason why their reimbursements are paid in full and on time. "BestPT has streamlined all of our billing procedures, making our office more efficient and more profitable. Their staff is always willing to help me tackle the next insurance hurdle and make sure that the claims keep rolling out."
According to Tom Jorno, PT Excellence Center Director at Billing Dynamix, bestPT's Claims Workbench automates the process of claim selection for follow up, "it allows the practice owners and their staff to see precisely which claims require attention on any given day. The software allows them to see exactly where a claim may be getting stuck, what is wrong with the claim, and what to do to fix it," says Jorno. "At the end of the day, bestPT summarizes all of this information into a single metric that can be monitored to ensure that every claim that required attention has been followed up on."
Click here to sign up for the free webinar about bestPT's revenue cycle workflow management.
About BestPT and Billing Dynamix, LLC
BestPT by Billing Dynamix is a comprehensive cloud-based Physical Therapy Practice Management system that includes intuitive EMR, industry-leading billing, scheduling, and powerful yet simple workflow management. Save documentation time and keep legible and compliant documents. Automate claims and leverage over 2.5 million coding rules spanning 2,500 practice-years of experience. Reduce administrative overhead and foster staff teamwork. BestPT is the only Physical Therapy clinic solution that reduces administrative time by 70% compared to industry averages – guaranteed. Complete practice management consulting and a rich array of integrated products and services round out bestPT product and service packages. Register for a private Demo+, and review our industry-leading guarantee at http://bestptbilling.com/