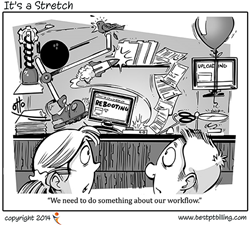 Memory-management of complex processes is an impossible approach for most humans
Clearwater, Florida (PRWEB) August 26, 2015
This new webinar educates physical therapy practice owners how to achieve better outcomes in their day-to-day operations and better maintain patient relationships and patient compliance using automated alert software. Learn about it here.
According to Jason Barnes, Chief Operations Officer for bestPT, memory-management is the main culprit for poor patient experience. "Memory-management of complex processes is an impossible approach for most humans. An incomplete task turns into poor outcomes, fewer referrals, and lower revenue," says Barnes.
Automated alerts and notifications ensure timely completion of all the relevant activities that define patient's experience, such as medical re-exams, referring physician reports, payment reminders, X-rays, insurance authorizations, etc. Learn about bestPT Billing and EMR Software alert management software here.
About BestPT and Billing Dynamix, LLC
BestPT by Billing Dynamix is a comprehensive cloud-based Physical Therapy Practice Management system that includes intuitive EMR, industry-leading billing, scheduling, and powerful yet simple workflow management. Save documentation time and keep legible and compliant documents. Automate claims and leverage over 2.5 million coding rules spanning 2,500 practice-years of experience. Reduce administrative overhead and foster staff teamwork. BestPT is the ONLY Physical Therapy clinic solution that reduces administrative time by 70% compared to industry averages – GUARANTEED. Complete practice management consulting and a rich array of integrated products and services round out bestPT product and service packages. Register for a private Demo+, and review our industry-leading guarantee at http://bestptbilling.com/