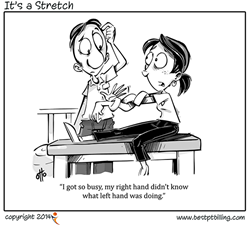 the first step in building any repeatable and scalable process is to define process performance and uniformity metrics
Clearwater, Florida (PRWEB) July 22, 2015
Practice owners fail to control and scale up patient visit experience when they rely exclusively on their memory and do not measure their practice performance. Without measuring, practice owners do not know that they have a revenue or a patient retention problem. This new webinar educates physical therapy practice owners about how can they measure and rate the efficacy of their process or staff and how can they use checklist technology to establish repeatable, scalable, and effective processes. Learn about it here.
According to Jason Barnes, COO for BestPT Billing and EHR Software, the first step in building any repeatable and scalable process is to define process performance and uniformity metrics. "The tasks are grouped together in a category for tracking purposes. The tasks can then be measured using the Task Manager Console across all patients or filtered down to a patient, to measure the success of the process across the practice or with an individual," says Barnes. "For instance, the patient intake process might have 10 steps. If one of the steps is neglected, the problem would be manifested by the Task Manager Console reading a completion rate of 90%. The tasks can be sorted and the offending task can be rooted out and either changed or have additional staff training to achieve better results."
Learn about bestPT Billing and EMR Software checklist technology here.
About BestPT and Billing Dynamix, LLC
BestPT by Billing Dynamix is a comprehensive cloud-based Physical Therapy Practice Management system that includes intuitive EMR, industry-leading billing, scheduling, and powerful yet simple workflow management. Save documentation time and keep legible and compliant documents. Automate claims and leverage over 2.5 million coding rules spanning 2,500 practice-years of experience. Reduce administrative overhead and foster staff teamwork. BestPT is the ONLY Physical Therapy clinic solution that reduces administrative time by 70% compared to industry averages – GUARANTEED. Complete practice management consulting and a rich array of integrated products and services round out bestPT product and service packages. Register for a private Demo+, and review our industry-leading guarantee at http://bestptbilling.com/