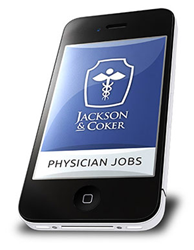 This new app allows Jackson & Coker to give unprecedented support to physicians whose work requires agile mobility with no room for error. -- Sandra Garrett, President, Jackson & Coker
Atlanta, GA (PRWEB) September 03, 2014
Jackson & Coker has unveiled a new physician jobs app to support locum tenens physicians throughout every step of their work, from finding their newest opportunities to navigating the complicated logistics for getting to those assignments.
The app, rolled out in August, has two components. One allows physicians to search for and apply to positions, obtain industry information, gain access to resources from the Jackson & Coker website and set job notification alerts, among other things.
The second component—exclusively available to providers on assignment with Jackson & Coker—puts every detail of physicians' assignments, travel and credentialing in the palm of their hands.
Essential information about travel, such as flight numbers, hotel confirmation numbers, contact information and GPS maps to and from the hotel, are easily accessible. And details about the provider's assignment, including a contact name and number, facility address and a map from the current location, work schedule and time sheet reminders also are at-a-glance.
In addition, every screen has a one-button emergency Jackson & Coker contact number to quickly reach on-call staff and a text/push notification for urgent updates.
The convenience of smartphones is undeniable. Using the technology in every physician's pocket to capture the ever-changing details of the locums practice style makes all the challenges easily conquered. "This new app allows Jackson & Coker to give unprecedented support to physicians whose work requires agile mobility with no room for error," said Sandra Garrett, president of Jackson & Coker. "If one of our locum providers arrives at a new assignment in an unfamiliar city in the middle of the night, that physician can use the app to get to the hotel for some rest, and then get to the hospital the next morning. The contact person will be there waiting." Should any problems ever arise, a Jackson & Coker representative is always available.
About Jackson & Coker
For over three decades, Jackson & Coker, a leading locums and permanent placement physician employment firm, has provided doctors for a day, a lifetime, or any of life's changes in between. The firm ensures that both patients' needs and physician career goals are met and by uniting doctors with the hospitals and medical facilities that hire them.
The physician recruitment company has earned a national reputation for placing exceptionally qualified doctors in commercial and government practice physician job opportunities. Recruiters work in two divisions: Permanent placement, which recruits doctors in over 40 medical specialties for permanent physician jobs, and locum tenens, a staffing model that recruits physicians for temporary doctor jobs. With a broad range of physician staffing experience in all specialties including Psychiatry jobs, Hospitalist jobs, Internal Medicine jobs, Surgery jobs, Family Practice jobs, Anesthesia jobs and Radiology jobs, Jackson & Coker specializes in jobs for physicians at any stage of their professional career.