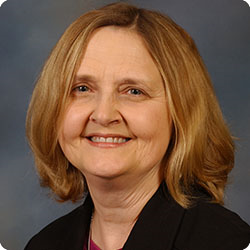 Her passion for bringing comfort and help to patients facing incurable neuromuscular disease is inspiring. -- Sandra Garrett, President, Jackson & Coker
Atlanta, GA (PRWEB) June 03, 2014
In recognition of her dedication and generosity in caring for numerous patients and medical students throughout Little Rock, Arkansas, Stacy A. Rudnicki, M.D. was honored as the 2013 Physician of the Year by national staffing firm, Jackson & Coker.
The award was created to draw attention to extraordinary physicians who serve as beacons in their community and the healthcare industry.
A neurologist, Dr. Rudnicki is currently professor of neurology at the University of Arkansas for Medical Sciences (UAMS) and the Kathryn and J. Thomas May Chair in Amyotrophic Lateral Sclerosis (ALS). In addition to her service on numerous boards and committees, Dr. Rudnicki has participated in medical mission trips to Honduras, as well as advocated for ALS patients in Washington DC. She received the Paul Dunn Purpose Award for her dedication to Arkansans with ALS.
"Dr. Rudnicki has spent her career teaching medical students and providing care to patients with neurological disorders," said Sandra Garrett, president of Jackson & Coker. "Her passion for bringing comfort and help to patients facing incurable neuromuscular disease is inspiring."
Not long after she arrived in Little Rock, Dr. Rudnicki started to care for ALS patients. The project evolved into the UAMS ALS multidisciplinary clinic, which became a Muscular Dystrophy Association-certified ALS clinic in 2004.
Nominations were made by hospital administrators and physicians through an online survey tool. Dr. Rudnicki was selected among all nominees reviewed by an independent panel of healthcare leaders. Their decision was based upon the content quality of the nominations submitted, not the quantity of nominations.
About Jackson & Coker
For over three decades, Jackson & Coker, a leading locums and permanent placement physician employment firm, has provided doctors for a day, a lifetime, or any of life's changes in between. The firm ensures that both patients' needs and physician career goals are met and by uniting doctors with the hospitals and medical facilities that hire them.
The physician recruitment company has earned a national reputation for placing exceptionally qualified doctors in commercial and government practice physician job opportunities. Recruiters work in two divisions: Permanent placement, which recruits doctors in over 40 medical specialties for permanent physician jobs, and locum tenens, a staffing model that recruits physicians for temporary doctor jobs. With a broad range of physician staffing experience in all specialties including Psychiatry jobs, Hospitalist jobs, Internal Medicine jobs, Surgery jobs, Family Practice jobs, Anesthesia jobs and Radiology jobs, Jackson & Coker specializes in jobs for physicians at any stage of their professional career.