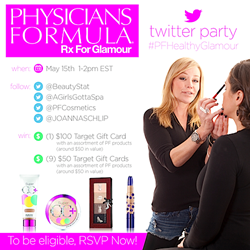 Consumers should RSVP right away to be eligible to win complimentary beauty products and Target gift cards.
(PRWEB) May 08, 2014
Join BeautyStat.com, Physicians Formula and beauty blogger Shannon Smyth of AGirlsGottaSpa.com along with Celebrity Makeup Artist Joanna Schlip, who will be answering summertime makeup questions during the Twitter Party.
Make sure to RSVP below before the party on Thursday, May 15th @ 1-2PM EST. And remember to include #PFHealthyGlamour AND #bstat when tweeting all questions to be eligible to win prize packs. Nine winners will receive a $50 Target Gift Card and $50 worth of Physicians Formula cosmetics. While 1 lucky winner will receive a $100 Target Gift Card and $100 worth of Physicians Formula cosmetics.
Joanna will tell guests first-hand how to wear all of their favorite summertime makeup looks and learn about the new products Physicians Formula has to offer. Like the all-In-one anti-aging treatment, moisturizer, foundation and SPF protection of the new Super CC+ Color-Correction + Care CC+ Cream SPF 30 and new Bronze Booster Glow-Boosting BB Bronzing Powder SPF 20 that combines skincare + cosmetic benefits to boost skin's natural luminosity and clarity for a long-lasting, healthy tan-glow.
The Twitter party starts on Thursday, May 15th @ 1-2PM EST. RSVP now by clicking here on >> BeautyStat.com.
BeautyStat is an online beauty retail platform (that features makeup, skincare and haircare reviews). It has been featured in Women's Wear Daily, LA Times, New York Times, Forbes Magazine, NBC and CBS News. The strength of BeautyStat.com is its captive, engaged and influential 200,000+ community, 190+ blogger network and 40 million social network reach. BeautyStat.com works with beauty brands, retailers and PR agencies to connect them to the BeautyStat community for e-commerce, advertising and rich consumer insights.