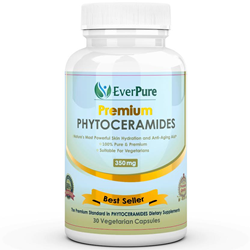 Taking Phytoceramides orally restores the natural outer layer of the skin.
New York, NY (PRWEB) May 15, 2014
EverPure Labs, a company that creates natural supplements and remedies, has just announced the launch of their new premium Phytoceramides skin care supplement. As a video on the plant derived Phytoceramides notes, this natural product is so effective at rejuvenating the skin, it has earned the nickname "natural face lift."
In order to celebrate the launch of the new Phytoceramides product, the founders of EverPure Labs have just added a new 10 percent off coupon code that shoppers may use when purchasing the supplement through the company's Amazon page. To take advantage of the VIP coupon code, people simply need to type in the code PHYTOOFF during the checkout process.
For people who are dissatisfied with the way their skin looks but are hesitant to undergo costly procedures like Botox injections and plastic surgery, the new premium Phytoceramides supplement may give them the answer they are looking for. EverPure Labs rigorously tested the product for months before launching it to the public, and already sales have been brisk.
As a company spokesperson explained, the 350 mg Phytoceramides plant derived product is 100 percent natural and comes with a 100 percent money back guarantee. The supplement, which has been used in Japan for centuries, can help to make wrinkles less noticeable while working to improve the structural integrity of the skin. People lose their natural amounts of Phytoceramides as they age, which is why the skin typically starts to look wrinkled, rough and dry.
"Taking Phytoceramides orally restores the natural outer layer of the skin," the spokesperson explained, adding that the powerful molecules work from the inside out, getting absorbed into the bloodstream and carried to the inner layer of the skin.
Anybody who would like to learn more about the new Phytoceramides product from EverPure Labs may visit the company's Amazon page; there, they can read about how the supplement can help restore skin and give it a youthful dewy glow. Although it has not been on the market for long, the customer reviews are already overwhelmingly positive.
For example, one reviewer wrote that although she was a bit skeptical at first, Phytoceramides has truly helped to improve the appearance of her skin.
"I've been taken phytoceramides from EverPure for around four weeks and I believe there is a truth to the statement 'Regenerate the skin,'" the reviewed noted.
"Starting a week ago, I felt that my skin became more elastic and some of the very tiny wrinkles started to disappear."
About EverPure Labs:
EverPure Labs has been working on the cutting edge of health and supplemental nutrition. They make natural plant derived remedies to help average everyday people deal with their health concerns while decreasing or doing without the usage of dangerous prescription medications. For more information, please visit http://www.amazon.com/gp/product/B00JBKPADC.