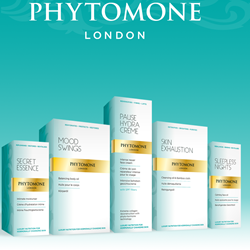 I am thrilled with the results! Pause Hydra Crème is a wonder cream – Deb A. London
London,United Kingdom (PRWEB UK) 23 September 2015
British luxury skin care brand Phytomone is a collection of highly effective, phytoestrogen-rich products, specifically tailored to correct the effects of ageing in women over 35.
Phytomone was developed by clinical nutritionist and skin therapist Jane Atherton in conjunction with a team of Nobel Prize winning scientists. These advanced skincare products directly combat the ageing effects of oestrogen depletion through their unique blends of photoestrogens and essential oils. The initial collection comprises of 5 products and will launch in Fortnum & Mason's new beauty floor on 24th September.
The Hero Product of the line is Pause Hydra Crème Intense Repair Face Cream. This innovative new 'Quadra-Care' formulation offers four benefits in one cream: Moisturiser, Serum, Eye Cream, and Neck Cream. It has been expertly formulated to include the latest scientific advances in plant hormone and phyto stem cell technology, which have been shown to increase skin density as effectively as prescription HRT. Independent clinical trial results for Pause Hydra Crème show that 95% of testers noticed a dramatic difference in just four weeks; the product carries two doctors endorsements.
The collection further includes Skin Exhaustion Cleansing System with unique bamboo cloth.
Mood Swings Balancing Body Oil, Sleepless Nights Calming Face Oil, and Secret Essence Intimate Moisturiser. All products have been developed to nourish the skin during the transitional stage of menopause and beyond, with specific ingredients chosen for their rich sources of native vitamins, minerals and nutrients. Through restoring a youthful and radiant complexion, Phytomone aims to instill confidence in and bring a sense of harmonious well-being to women worldwide.
Contact Phytomone via email at supportgroup(at)phytomone.com or direct line 07714 516803