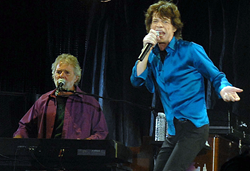 "The irocku lessons are simply super and to watch and hear them just adds the finishing touches to a well conceived methodology of teaching techniques which are simply not available anywhere else." - John A
Dry Branch, GA (PRWEB) September 30, 2014
Chuck Leavell, keyboardist for the Rolling Stones and Lifetime Grammy Achievement Award recipient launches IROCKU, a website for online rock piano instruction. Chuck has been a member of The Rolling Stones for over 30 years and has played keyboards with many of rock and roll's superstars including the Allman Brothers, Eric Clapton, Chuck Berry, Aretha Franklin, John Mayer and an iPod full of others. IROCKU encourages all learning styles and is intended for anyone who wants to learn how to play like a rockstar; beginners and advanced players of all ages.
"I have been fortunate in my career in music to have recorded and toured with many incredibly talented artists including a host of rock superstars. All these years I've had fans, musicians, and teachers constantly ask me " how can I learn to play like that"? Well, here's how! I developed IROCKU's online rock piano lessons to share my passion for the piano and to pass on what I've learned from over 40 years of playing with rock's superstars. IROCKU is a system designed to teach anyone how to play rock and roll on the piano and we have a very simple mission- make learning to play rock piano easy and fun." –Chuck Leavell
The NYC Department of Education has selected IROCKU to provide rock'n'roll workshops for the K-12 music teachers. Teachers and students alike say IROCKU is life changing:
"Absolutely love the lessons. You have created a life changing service here for anyone who loves piano and wants to improve. I look forward to my lessons everyday and can't thank you enough for quality of the product you have created. It's far, far ahead of anyone else... The whole product is very well put together from the different levels, the sheet music that accompanies them and the videos. It's perfect... You're doing a great thing here. "-DanS
"My son (age 10) was recently in a talent show at his school and performed 'What'd I Say'. The crowd LOVED it! The more people hear him play, the more they are inquisitive about who, how, and where he is learning how to play these songs and where this selection of songs is coming from ... his enthusiasm is tremendous and is everyday thrilled about improving and progressing on the piano." -PiperA
Each IROCKU lesson is presented in 7 different levels. Beginners start with levels 1-3, intermediate players hone their skills with levels 3-5 and advanced players challenge themselves to play the licks of rock's greatest keyboardists with levels 5-7. For students just starting out, the IROCKU online "note learner" teaches the core concepts of music.
Every lesson includes a transcription of the song, an exercise to help with the core concepts of rock, and an improvisation that teaches how to create 'riffs' and play like a true rocker. With each song IROCKU also offers stripped down groove charts that teach the core concepts of how to play each tune so that the student can quickly start playing with other musicians without getting bogged down reading notes. Playing music is most fun when played with others, and the groove charts help do just that.
IROCKU has a rock and roll song catalogue that continues to grow. All lessons are designed by performing rock musicians so that they are exactly what students want to play and hear. If a student can master the songs in the IROCKU catalogue they can play any rock song ever written.
IROCKU is an interactive school where teachers and students share their progress online, get feedback and learn new tricks to master the rock classics. The lessons are easily accessible on any computer, smart phone or tablet and no additional midi systems or software are needed. IROCKU is simple and straightforward so that everyone should be able to easily learn to play.
For a sample lesson, please visit: http://www.irocku.com/registration/
About IROCKU Enterprises, LLC:
IROCKU Enterprises, LLC was founded by Chuck Leavell, recipient of the 2012 Grammy Lifetime Achievement Award and legendary keyboardist for the Rolling Stones, The Allman Brothers, and Eric Clapton. IROCKU's mission is to provide the best contemporary music education on the planet, for beginners through advanced players.