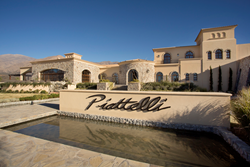 Several of Piattelli's labels received excellent scores from one of the most important wine publications in South America.
Mendoza, Argentina (PRWEB) June 26, 2014
Piattelli Vineyards, the American-owned winemaking properties in Mendoza and Salta, Argentina, received high honors this month for many of its newly released wines for the year, including multiple 90-plus point ratings and recognition in several "Best Of" lists.
Piattelli labels received excellent scores—between 93 and 88 points—in the 2014 edition of Guía Descorchados, one of the most important wine publications in South America, run by Chilean wine critic Patricio Tapia.

Piattelli Grand Reserve Trinità 2011—93 points, listed on "Top 10 of the Best Wines of Luján de Cuyo" and "Best Red Blends." A blend of 70% Malbec, 18% Cabernet Sauvignon and 12% Merlot, the grapes for this wine are grown on old vines in upper elevations and carefully tended from bud break to bottle, creating a stunningly elegant red wine with an enhanced flavor profile.
Grand Reserve Malbec 2011—92 points, listed in "Best Wines of Agrelo." Grown through careful regulation of 3.1 tons per acres and meticulous canopy and water management, this sophisticated Malbec saw partial fermentation in both small stainless tanks and concrete eggs for a fuller integration of flavors resulting in a multidimensional and full-bodied wine.
Piattelli Premium Reserve Torrontés 2013—90 points, listed among the Top 10 "Best Torrontés." Produced from the Torrontés Riojano grape in Cafayte, Salta, where extreme thermal amplitudes and aging on the lees creates an explosive white wine full of complexity and balance.
Piattelli Premium Reserve Malbec 2011—88 points. From an elevation of 3,200 feet in Luján de Cuyo come the grapes for this wine. The grapes are hand-picked and sorted and the wine is produced in small batches to accentuate the unique qualities of the vineyard and create a well-balanced and food-friendly wine.
In June, Piattelli Premium Reserve Cabernet Sauvignon (Cafayate) 2013 was chosen as one of the Top 10 Cabernet Sauvignons of Argentina in the price category up to ARS $100 at El Desafío Federal, an annual gathering of nearly 100 winemakers, sommeliers, specialists, bloggers and oenophiles in Buenos Aires. Three Piattelli wines also placed high in the 2014 Denver International Wine Competition, with the Grand Reserve Trinità 2010 and Premium Reserve Malbec 2011 both winning gold and the Premium Reserve Torrontés 2013 winning silver. And earlier this year, the Premium Reserve Torrontés received 90 points from Stephen Tanzer.
Piattelli Vineyards covers 477 acres in Cafayate, Salta (elev. 5,577 feet) and 121 acres in Luján de Cuyo, Mendoza (elev. 3,300 feet). In addition, Piattelli Vineyards works in a close partnership to grow and harvest its grapes from Valle de Uco (elev. 4,000 feet). Overseen by Principal Winemaker Valeria Antolin, Piattelli currently produces Malbec, Cabernet Sauvignon, Chardonnay, Torrontés, Rosé, and an exquisite blend of Malbec, Cabernet and Merlot grapes called Trinità. The Premium Reserve wines fall between US $10 and $20, and the Grand Reserve level ranges US $20 to $30. Piattelli Vineyards has received many top ratings from such well-known publications as the Wine Advocate, Wine Enthusiast, Wine Spectator and Stephen Tanzer's International Wine Cellar and is distributed in Minnesota by Vinocopia Inc and brokered nationally in the United States through Casa Vinicola Zonin USA.