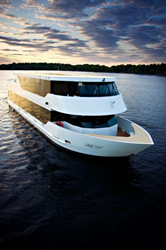 The cruise is a unique opportunity for Minnesotans to gain an inside perspective on the international wine industry and taste the award-winning wines of Piattelli.
Minneapolis, MN (PRWEB) September 09, 2014
Piattelli Vineyards, (piattellivineyards.com) the Argentine winery with a Minnesota connection, will be the featured wines during a Lake Minnetonka cruise, Sept. 19 from 7 to 10 p.m. A selection of five wines will be paired with small savory courses during the three-hour cruise, and guests will have the opportunity to meet and mingle with Piattelli owners Jon and Arlene Malinski, along with other senior representatives of the company.
The cruise is a unique opportunity for Minnesotans far away from the coasts to gain an inside perspective on the international wine industry, learn about the experience of doing business in Argentina, get tips on traveling in Argentina and taste the award-winning wines of Piattelli.
Originally founded by descendants of the Italian Piattelli family, the Malinskis purchased the infant winery in Mendoza in 2002. In 2013, they opened a second multimillion-dollar, winery in the remote Salta region of northwest Argentina, a region now becoming known as the new it-spot to visit and explore. The winery is arguably the most important investment in Argentina's wine industry in recent years. The Salta property outside the city of Cafayate stands at 5,522 feet elevation. It features nearly 500 acres of vineyards, one of the only gravity flow wineries in Argentina, innovative winemaking techniques, a full-service restaurant and scores of cultural events throughout the year.
Minnesota was Piattelli's first export market, and the brand has become highly visible throughout the state over the past eight years. The winery has since expanded distribution into six countries, with more international channels of business expected to open in the near future. Wine production is on target to grow from about 21,000 cases in 2009 to over 100,000 cases in 2015.
Piattelli has received numerous accolades since releasing its first vintage nearly a decade ago, including recent awards of 90+ points from Robert Parker on the 2010 Grand Reserve Trinità and placement on a "Top 10 Best Wines of Lujàn de Cuyo" list; 90 points on the 2013 Torrontés from Stephen Tanzer and listing as a "Top 10 Best Torrontés;" and a Gold medal at this year's Denver International Wine Festival on the 2010 Premium Reserve Malbec.
Tickets for the cruise are $55 per person, which covers the food, wine and cruise. The cruise is operated by Al & Alma's Supper Club and Charter Cruises and tickets may be purchased on their website. Boarding begins at 6:30 p.m. at the Al & Alma's port in Mound. Participants will also be able to purchase wines during the event. Tickets may be purchased by clicking this link: https://www.al-almas.com/asp/order/Items.aspx?EventId=1135
About Piattelli Vineyards:
Piattelli Vineyards covers 477 acres in Cafayate, Salta (elev. 5,577 feet) and 121 acres in Luján de Cuyo, Mendoza (elev. 3,300 feet). In addition, Piattelli Vineyards works in a close partnership to grow and harvest its grapes from Valle de Uco (elev. 4,000 feet). Overseen by Principal Winemaker Valeria Antolin, Piattelli currently produces Malbec, Cabernet Sauvignon, Chardonnay, Torrontés, Rosé, and an exquisite blend of Malbec, Cabernet and Merlot grapes called Trinità. The Premium Reserve wines fall between US $10 and $20, and the Grand Reserve level ranges US $20 to $30. Piattelli Vineyards has received many top ratings from such well-known publications as the Wine Advocate, Wine Enthusiast, Wine Spectator and Stephen Tanzer's International Wine Cellar and is distributed in Minnesota by Vinocopia Inc and brokered nationally in the United States through Casa Vinicola Zonin USA.