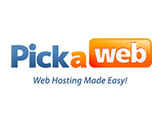 Pickaweb Ranks as 8th Most Reliable Hosting Company
(PRWEB) November 03, 2015
Pickaweb is now officially recognised as one of the most reliable web hosting companies according to independent industry experts Netcraft.
Netcraft is an Internet security provider, which provides monitoring services for the top hosting companies. Their reporting services help customers to compare various hosting providers side by side on a number of factors.
When people look for a hosting service, they need an independent way of identifying who they can trust. Due to the exponential rise in the number of hosts entering the market in recent years, it can sometimes be difficult to identify reputable hosts from not so reliable ones. This is where the Netcraft report comes in.
The Netcraft report makes it easy for people to determine which top providers they should use.
When it comes to something as important as web hosting, it is crucial that people get a service they can trust. The report considers a range of different criteria and determines the most reliable providers. Among the list of criteria are things like connectivity and operating systems that each host uses. After compiling a mass of data, Netcraft then publishes their results.
Recent report
In the September 2015 report, there was no surprise that many of the big name hosting sites such as GoDaddy got a mention. The number eight spot this time went to Pickaweb a UK company that offers reliable and affordable hosting services.
#8 Pickaweb
Since 2000, Pickaweb has been offering hosting services to UK SME´s. Achieving the number eight position is a pay off for all the hard work that Pickaweb´s management and technical teams have put in. The company offers reliable web hosting services along with domain name registration. From shared hosting to dedicated servers there is a broad range of services on offer.
One noticeable factor about Pickaweb is how reasonable their prices are when you consider the quality of the service as evidenced by the reports findings. With domain names starting from as little as £3.49, and High Availability VPS starting at just £9.99 per month. So while the services are always improving, their prices remain reasonable. The company also offers 24-hour support to their clients - a fact has earned them much praise and recognition from their client base.
High Level of Connectivity - 2nd only to GoDaddy
One of the things that Netcraft tested was the standard of connectivity. Each provider offers a different connection, and so it is crucial to check which is best in class. Unsurprisingly, this area is one in which Pickaweb excelled. The results found that the company had 0.010 level of connectivity. That means that the company was second only to GoDaddy in this instance, who scored 0.008. The staff members at Pickaweb pride themselves on offering the highest level of connection. They realise that each of their clients need a constant, reliable connection. That is why this aspect of the service is one of the best anyone can get. This report proves that Pickaweb is one of the leaders in this area.
High Successful Response Times
Another important factor that Netcraft measured to determine the ranking was response times of the hosting providers. These are measured every 15 minutes to create an overall picture of performance. These are made from different geographical points to ensure an accurate comparison of all the hosts measured.
Netcraft uses this approach because it considers that this is a better indication of customer satisfaction since it gives a better pointer to the reliability of the hosts routing system. Hence the ranking shows the fewest failed requests instead of using the more commonly used shortest period of outage.
Pickaweb Founder & Managing Director, Tony Messer was not surprised at the results. "We have been really focusing on ensuring that we offer our clients the fastest & most reliable hosting service possible. As well as connectivity factors, we only use Enterprise components end to end and software like Litespeed and Cloudflare as standard to make sure we give our clients every possible advantage when it comes to the speed of their websites-"