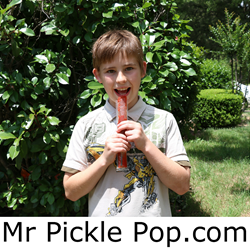 Dallas, TX (PRWEB) June 18, 2014
Mr Pickle Pop offers a healthy treat which is perfect for people who are looking for all natural foods. There are no added sugars, artificial flavors, or colors which is why more moms who are going green are loving this product. Vitamins and antioxidants are added to enhance the picklepops making them even more healthy.
Helping kids is something everyone should enjoy and when Mr Pickle Pop was invited to participate in the fundraiser it was an easy decision. Approximately 250 picklepops will be available at the show to help raise money for the childrens hospital. These picklepops are not available yet in stores or online, so they will probably go fast. The hot rod & motorcycle show will take place at 100 North Central Expressway in Richardson, Texas 75080 from 1pm to 6pm on Saturday June 21st.
Matter of fact, before officially launching product for sale Mr Pickle Pop plans to engage Kickstarter or Indiegogo for a campaign that should offer first chances to get a case of the new product before it is available in the public market place. For more info visit http://mrpicklepop.com/pre-launch/.
Pickle pops by Mr Pickle Pop come in many flavors besides original. Right now the company has not decided which flavors besides original it will make available on the official launch. Some of the flavors that were tested by the public which had really great results include Polar Blast, Watermelon, Cherry, Green Berry Rush, Lemonade, Grape, Fruit Punch, Berry Limeade Blast, Fruit Juicy Red, Berry Blue Typhoon, Lemon Berry Squeeze, Wild Purple Smash, Strawberry, Cherry Pomegranate, Pink Lemonade, and Cool Raspberry.
For more information about picklepops by Mr PicklePop visit MrPicklePop.com.