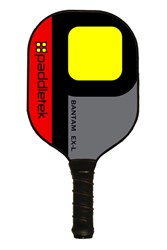 The Bantam EX-L is Pickleball Paddle is lighter weight and is wrapped with a Gamma Ultra Cushion Textured grip.
Denver, CO (PRWEB) December 23, 2013
The Paddletek Bantam EX-L Pickleball Paddle is produced with a composite polymer honeycomb core with fiberglass facings, and a printed UV protected outdoor vinyl face. The Bantam EX-L is a traditional shaped paddle, and has a low center of gravity with a larger playing surface. Similar to the Phoenix Pro paddle in size, the Bantam EX-L is lighter weight and is wrapped with a Gamma Ultra Cushion Textured grip.
The Bantam EX-L core is covered with a printed UV protected commercial grade outdoor vinyl. A durable polycarbonate over laminate is then applied to the vinyl for protection. The over laminate is made from the same material used to manufacture bulletproof glass and protects the paddle from sand and scratched pickleball balls.
Another feature of the Paddletek Bantam EX-L core is its thickness. Paddletek uses a .5-inch thick core rather than the commonly used .4-inch cores. The thicker core provides greater durability, widens the sweet spot, reduces vibration and allows for performance that is more consistent.
The retail price for the Bantam EX-L Pickleball Paddle is $85.00, and is now available at SillyTown.com.
Visit PickleBall.net for detailed specifications, descriptions, and reviews on the Paddletek Phoenix Pro and over 80 other Pickleball paddles.
About Paddletek
Paddletek Paddles are designed and manufactured to provide consistent, premium performance over an extended period of time. All paddles come with a one-year manufacturer's warranty and a unique five (5) year "no dead spot" guarantee. The construction of the paddle provides a larger, more consistent sweet spot with just the right amount of "pop" while not sacrificing control. The solid construction and materials help reduce vibrations and increase the paddles durability. Paddletek was the first major pickleball paddle manufacturer to produce a polymer (plastic) honeycomb core.
About PickleBall.net
The PickleBall.net community website offers players and enthusiasts a unique way to interact, providing detailed pickleball equipment listings, community ratings and reviews, places to play pickleball, and an online forum. We are people with a passion for Pickleball! Join the fun and play the fastest growing sport in North America.