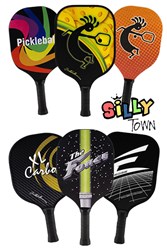 Denver, CO (PRWEB) November 26, 2013
SillyTown.com is glad to announce that the entire family of Pickleball paddles from Pickleball Now have been added to their online store and are available to Pickleball players nationwide. The lineup of Pickleball Now paddles are handcrafted in the US from high-end materials, and offer a large variety of products for players at the beginner level, up to intermediate and expert levels.
Founded in 2010 by Tom Wheeler and Tim Finger, Pickleball Now is located in the heart of Pickleball country, St. George, Utah. Offering Pickleball paddles, apparel, balls, and DVD's, Pickleball Now continues to push the envelope in industry development.
Whether you're looking for paddles made from wood, composites, aluminum, graphite, or carbon fiber, the Pickleball Now family of paddles offers something for everyone, in a multitude of eye-catching colors and professional graphics.
Pickleball Paddle models available from Pickleball Now: Galaxy, Club, Classic Lite, Metalite Classic, Edge, XL Carbon, and the Competition.
These high-end paddles from Pickleball Now are now available at http://www.SillyTown.com.
About SillyTown.com
An online retailer since 1998, SillyTown.com offers Pickleball products at reduced prices. The sport with the funny name, Pickleball, was the perfect addition to the online store. SillyTown.com offers Pickleball Paddles, Pickleball Nets, Pickleballs, paddle grips, eye protection, and sports bags. Check the SillyTown.com web site for the lowest prices and free shipping on orders over $70.00.