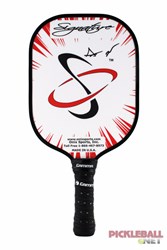 Designed by 3 time National Champion Steve Wong, the Signature Paddle is produced with a high tech polymer core, and a composite face.
Denver, CO (PRWEB) January 07, 2014
The Composite Signature Pickleball Paddle was designed by 3 time National Champion (USAPA Nationals), Steve Wong. The Signature Paddle is produced with a high tech polymer core, and a composite face. It has excellent pop and is quieter than most other Onix Sports paddles. It is accepted for use in all pickleball communities and is also approved by the USAPA. The Signature Pickleball Paddle provides great "touch" at the net.
The retail price for the Signature Pickleball Paddle is $75.00, and is now available at SillyTown.com.
Visit PickleBall.net for detailed specifications, descriptions, and reviews on the Onix Sport Signature and over 80 other Pickleball paddles.
About Onix Sports
Steve Wong, owner of Onix Sports is an ambassador of PickleBall and a Nationally Ranked player. He has won numerous gold medals in National PickleBall Tournaments and has over 20 years of experience. Their mission is to provide the best customer service while providing the highest quality Pickleball Products. Onix Sports was founded by people that love the sport of Pickleball and want to see it grow both nationally and internationally.
About PickleBall.net
The PickleBall.net community website offers players and enthusiasts a unique way to interact, providing detailed pickleball equipment listings, community ratings and reviews, places to play pickleball, and an online forum. We are people with a passion for Pickleball! Join the fun and play the fastest growing sport in North America.