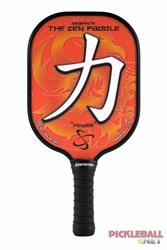 Peoria, AZ (PRWEB) November 12, 2013
Onix Sports, Inc. announces their latest aluminum core pickleball paddles, The Zen Paddle. The Graphite Zen paddle from Onix Sports family is perfect for both intermediate and advanced pickleball players.
Developed by three-time national champion Steve Wong, the new Zen Paddle features a quieter aluminum core. This new, bold design features the Chinese symbol for "Power", and will change on future versions.
The Graphite Zen pickleball paddle was designed with a standard size hitting surface over a quieter aluminum core approved for play at all pickleball locations. The Zen paddle has a graphite face, weighs an average of 7.5 ounces, and comes finished in 8 exciting colors with a GAMMA Contour Cushion grip.
Retail Price is $100 for the Graphite Zen Paddle. They are available now at SillyTown.com.
Visit PickleBall.net for detailed specifications, descriptions, and reviews on the Zen Graphite and over 75 other Pickleball paddles.
About PickleBall.net
The PickleBall.net community website offers players and enthusiasts a unique way to interact, providing detailed pickleball equipment listings, community ratings and reviews, places to play pickleball, and an online forum. We are people with a passion for Pickleball! Join the fun and play the fastest growing sport in North America!