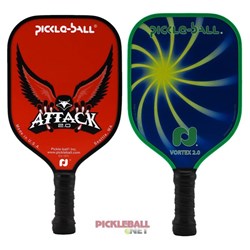 Seattle, WA (PRWEB) August 23, 2013
Pickle-Ball Inc. has redesigned two of their most popular pickleball paddles, the Attack 2.0 and Vortex 2.0. These new paddles are produced with the latest innovation in core technology, the PFG2 Core and the ALG2 Core. These proprietary cores were developed to generate solid power and control characteristics while decreasing the noise levels typically associated with high performance tournament paddles.
When the Original Attack paddle back was introduced back in 2012, it quickly became known as the best control paddle in the game. Now, Pickle-Ball Inc. has added some power, reduced the noise and made the graphics more durable to create the new Attack 2.0. The Attack 2.0 will take your 'dink' game to the next level with the same great shape and balance of the original.
The Vortex 2.0 is the heaviest paddle Pickle-Ball Inc. produces and is specifically made for the player who wants the added weight. They tried very hard not to stray too far from the original Vortex paddle design, the new vinyl gives the paddle a reinforced face that will hold up better over time, UV coating to protect it from the sun and a much sharper appearance.
See technical specs, photos, ratings and reviews on the Attack 2.0 & Vortex 2.0 Pickleball Paddles.
Retail price: $75.00 - Available now on SillyTown.com
About PickleBall.net
The PickleBall.net community website offers players and enthusiasts a unique way to interact, providing detailed pickleball equipment listings, community ratings and reviews, places to play pickleball, and an online forum. We are people with a passion for Pickleball! Join the fun and play the fastest growing sport in North America!