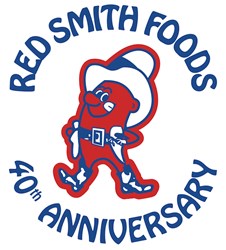 We never want to substitute savings for quality. - Tim Foster
Fort Lauderdale, FL (PRWEB) November 26, 2013
Red Smith Foods, the leading manufacturer of pickled snack foods will celebrate 40 years of business this November. Since the company's inception in 1973, Red Smith Foods has grown into a leading supplier of pickled sausage, pickled eggs and pickled pigs feet in the United States.
Red Smith Foods began as a small business in South Florida that sold primarily to food trucks and small convenience stores. The company now processes more than 2.5 million pounds of sausage, eggs and pigs feet each year out of its state of the art manufacturing facility near Fort Lauderdale, Florida. Red Smith Foods sells its coveted pickled eggs, sausages, and other snacks to a variety of retail stores throughout the United States including Walmart and directly to consumers online through their trusted partner, The Pickled Store.
Red Smith Foods has always been a family owned and operated business. Jon and Tim Foster represent the latest generation of Fosters working together; a history that traces its roots back to their great-grandfather's meat processing business in New England.
"We spent a great deal of time over the past 40 years building a reputation of producing high-quality, high-value products, and we look forward to continuing that tradition as we grow and expand our product offerings to national and international audiences," says Jon Foster, COO of Red Smith Foods.
Throughout its 40 years in business Red Smith Foods has maintained personal and valuable relationships with its vendors, distributors, and retailers to provide the highest quality and best tasting products to its customers. "Customer satisfaction has always been and continues to be a priority for Red Smith Foods," said Tim Foster, CFO who regularly welcomes customer feedback through its' Website and Facebook page.
To view a full list of Red Smith Foods offerings, please visit http://www.redsmithfoods.com.
About Red Smith Foods
Since 1973, Red Smith Foods has earned a reputation for producing the finest quality pickled snacks in the industry. For over 35 years we have been a staple item in grocers, convenience stores, and distribution centers. Family owned and operated for 2 generations, our focus has and will always be on producing the highest quality product for our customers.