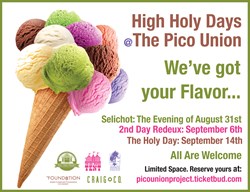 By restructuring and opening up our services to people of every faith, we hope to welcome the entire Los Angeles community to become a part of the Pico Union Project and work to bridge the gaps between our communities.
Los Angeles, CA (PRWEB) August 21, 2013
The Pico Union Project will hold their pfirst annual Downtown Holy Days at Pico Union with four separate events on August 31, and September 6 and 14, 2013.
An eclectic group of speakers, artists, poets, rabbis, pastors, and community leaders will join celebrated musician Craig Taubman for the first annual Downtown Holy Days at the Pico Union. Downtown Holy Days will take the traditional Jewish high holidays services and turn them upside down by welcoming people of all faiths, all walks of life, to join in on the spiritual meditations and celebrations..
"Every year for the past nine years, I have produced a publication called Jewels of Elul which contains reflections on rotating themes to help us prepare for the holy days," says Taubman. "This year's theme is The Art of Welcoming and is inspired by my purchase of the Pico Union building last January. As we worked on opening our community center in this 105 year old building, we came to realize that welcoming is more than just the way we greet people - it is a way of life. By restructuring and opening up our services to people of every faith, we hope to welcome the entire Los Angeles community to become a part of the Pico Union Project and work to bridge the gaps between our communities."
Downtown Holy Days will consist of four separate events.
Selichot: Saturday, August 31, 2013, 8:00 – 11:00 pm
Join the Pico Union for a night of mixed drinks and metaphors with performances from Theatre Dybbuk and folk duo Wellspring. Renowned author and spiritual muse Rabbi Ed Feinstein and spoken word artist Rachel Kann will fill out the evening. It's a classy affair and attendees arriving before 9:30 pm will be provided with single-malt scotch compliments of Single Cask Nation as well as the opportunity to rub elbows with some real mensches!
Attire: Dress to Impress
2nd Day Redeux: Friday, September 6, 2013, 10:00 am – 3:00 pm
Services will be led by Stockholm's Former Chief Rabbi, David Lazar, with a pre-service meditation by yogi & activist Sarah Newman. Following services, there will be the opportunity to break bread with a lunch provided by Paper or Plastik, Art's Deli, and Mama's International Tamales. The day will end with TedX-style Rosh Hashanah. Ten extraordinary personalities will be given 10 minutes to share their views on "The Art of Welcoming." Speakers include: Elda Martinez of CARECEN, Pastor Chip Murray, Co-Founder of MPAC Salam Al Mayarti, Talent Agent Stuart K. Robinson, and many more.
Attire: Comfy and Casual (White If So Inclined)
The Holy Day: Wednesday, September 14, 2013, 10:00 am –12:00 pm
Jewish holy days end with Havdalah, a ceremony marking the end of the holidays and the beginning of the new Jewish year. Services will be led by Rabbi David Lazar.
Attire: Casual
Break the Fast: Wednesday, September 14, 2013, 9:00 pm
At the after party, attendees will eat, drink and be joyous at this one of a kind party. Comedian Eric Schwartz hosts musical acts such as DJ Kenzo Martinez, Automatic Toys, and dance from the likes of Ate9. Attendees will also have the opportunity to participate in tribal body painting by Amir Magal.
Attire: Bring Your Dancing Shoes
Tickets for all Downtown Holy Days events are available at picounionproject.ticketbud.com. Each ticket is currently priced at $25 for an "Elul Bird Special." Prices will go up closer to the event.
For more information about Downtown Holy Days at the Pico Union, please contact Craig 'N Co. at 818.760.1077 or Kendall Dill at kendallgdill(at)gmail(dot)com.
ABOUT CRAIG TAUBMAN
Craig Taubman began his career at the tender of age of 15 when he picked up a guitar and began to lead music at Camp Ramah in Ojai, California. His musical styling has made his recordings an integral part of the Jewish community including his top-selling release, Friday Night Live, composed for a special Shabbat service held once a month at Sinai Temple with Rabbi David Wolpe in Los Angeles. His extensive musical catalog consists of over 50 recordings featuring everything from Celebrate: Jewish Lullabies to Rock'n Toontown, featuring backup vocals with Mickey and Minnie. Craig has also enjoyed a successful career in television and film, composing and directing music for the Fox children's series Rimba's Island, the critically acclaimed HBO animated series Happily Ever After and Shari Lewis' PBS series, Charley Horse Pizza. His music has been featured at the Coca Cola Olympic Pavilion in Atlanta as well as in the Paramount Pictures feature film Andre, New Line Cinema's Pinocchio, and Disney's animated short film, Recycle Rex. His songs have been recorded by such respected artists as Chita Rivera and Jennifer Holliday. Craig's sell-out concerts draw thousands of fans at such respected venues as Ravinia in Chicago, Valley Forge in Pennsylvania, Westbury Music Fair in New York, the Greek Theater in Los Angeles and three special performances at the White House.
ABOUT PICO UNION
Originally built by Sinai Temple in 1909, the Pico Union is the oldest synagogue building in Los Angeles. For 88 years, it was lovingly preserved by the Welsh Presbyterian Church. Now, the building is embarking on a new beginning as an interfaith community center, fulfilling the ancient Jewish value of being "a light unto the nations." Centrally located in the heart of Los Angeles, the Pico Union is ideally situated to be a center of culture, arts, social justice and learning. It is a place where people of all faiths and walks of life come together to celebrate Holy days, holidays, and the holy in the every day. Pico Union is about thriving, not just surviving, about respecting the rituals of the past while boldly imagining a more vibrant future. It will be a courageous place that opens its doors to people of all faiths and backgrounds, a place that honors each other's humanity and that works to spread a message of inclusion through music, dance, prayer and communal celebration.