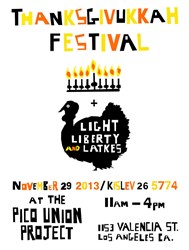 I'm asking Jews and non-Jews alike to pass over 'Black Friday' and celebrate the freedoms America provides to Jews and others.
Los Angeles, CA (PRWEB) October 15, 2013
On November 29, 2013, Los Angeles residents will have a chance to visit the newly opened Pico Union Project and celebrate Thanksgivukkah.
As has been reported in the pages of The Wall Street Journal and on the popular website Buzzfeed, Thanksgivukkah is the name given to the extremely rare convergence of the Hebrew and Gregorian calendars resulting in the first day of Hanukkah falling on Thanksgiving Day for the first time ever. It will also be the last time for another 70,000 years.
Deborah Gitell, co-creator of the "Thanksgivukkah" Facebook page, has teamed with Craig Taubman's Pico Union Project to create the Thanksgivukkah Festival scheduled for Friday, November 29. 2013 from 1 – 4 p.m. at the Pico Union Project. The event will give all members of the community a chance to celebrate and reflect upon the "Once-in-an-Eon Overlap" of Hanukkah and Thanksgiving through food, beverages, music, crafts, and stories. Thanksgivukkah Festival is the only Thanksgivukkah event endorsed by the creators of the "Thanksgivukkah" Facebook page.
"I'm so excited to bring Thanksgivukkah to Los Angeles," said Deborah Gitell. "I'm asking Jews and non-Jews alike to pass over 'Black Friday' and celebrate the freedoms America provides to Jews and others. I thank the brilliant and creative Craig for hosting this once-in-an-eon festival."
"The brain child of Deborah Gitell, this celebration is a sure bet to bring in the whole community," said Craig Taubman. "We will provide great food, fun activities, and stellar performances."
A growing roster of participating groups and activities include:
Talent: The Moshav Band, Moose (the kid rock band), Keshet Chaim, Beit T'Shuvah, Ari Herstand, Moshav Band, Aqua Marina Mariachi, and Kosha Dillz.
Food Vendors: The Canter's Deli Truck, The Kosher Palate, Mama's International Tamales and Bibi's Bakery.
Activities: Carnival Games, Moonbounces, Hanukkah Gelt Piñatas, Arts & Crafts, Latke Making, Pita Making, Tree Planting, "Jamba Jews" Bike Blender, and Tribal Art by Amir Magal.
Media Sponsor: Tablet Magazine
Partners: IKAR Synagogue, PJ Library, JCC Without Walls, JQ International, Sinai Temple, and The Advot Project.
Thanksgivukkah Festival will incorporate Jewish and American values of religious freedom and social justice by designating 10% of the proceeds of the festival to Mazon, a Jewish Response to Hunger and to theatre programming for at risk kids at Pico Union Project.
In order to make the event affordable for all, Gitell and Taubman are raising funds via the Jewish crowdsourcing site, Jewcer, at http://www.Jewcer.com/Thanksgivukkah. Artist Kim DeMarco, a frequent contributor and cover artist for The New Yorker, designed all the Thanksgivukkah images for the marketing of this event including the signed, limited edition prints and aprons available through the Jewcer campaign.
Tickets for Thanksgivukkah Festival are $8 for adults, $5 for children and $20 for a family of four. Tickets can be purchased in advance at http://www.thanksgivukkah.eventbrite.com. Tickets will also be available at the door.
Pico Union Project is located at 1153 Valencia Street in downtown Los Angeles. Dedicated parking is available.