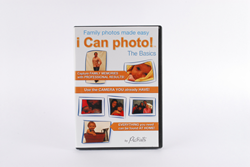 'As a former Photographic Supervisor of 18 years for Olan Mills Portrait Studios, this is by far one of the best at home photography teaching tools I have seen!' -Vicki Strosko, Photographic Supervisor, PA
New York, New York (PRWEB) July 22, 2014
Pictraits will launch its new video series, i Can photo!, on July 23, 2014. i Can photo! is a series of instructional videos that break down the techniques of producing studio-quality photos in the home environment. By adopting a DIY approach, Pictraits has leveled the playing field for parents and consumers when it comes to viable and affordable alternatives to waiting in line at the local portrait studio. Without getting into industry jargon, viewers are engaged with step-by-step examples to have them photographing right from the start.
The first video to be released is "The Basics", which demonstrates how to set up shots just like the professionals but without the pricey equipment and by using items that could be found around the home. Emphasizing the matter, the point-and-shoot camera appearing in the video costs less than $100, which goes to show how easily the outlined principles can translate to something like a smartphone or tablet.
Comprehensive in its coverage, its contents are divided into chapters, the first few of which break down the fundamentals of portraiture, with the later chapters offering techniques and suggestions for specific subject ages and groups, from toddlers at play to classic family portraits.
"The Basics" will be made available on Pictraits.com as a digital download ($49.95) or a DVD ($59.95) but, upon its release, it will be offered at promotional prices of $29.95 and $39.95, respectively. Both formats will come packaged with a guidebook as a digital download.
Pictraits is a New York-based company founded by Damian Hardeen, an award winning photographer, manager, and trainer, who has over 15 years of experience in the Portrait Studio industry. Dedicated to fostering a DIY approach to photography, Pictraits demonstrates how consumers can take studio-quality photos with only a simple camera and a few household items to capture intimate moments as they happen.