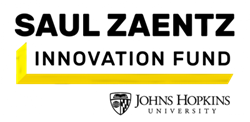 "Our primary mission is to give voice to those whose stories have been ignored or usurped," said Annette Porter, the Director of the Saul Zaentz Innovation Fund.
BALTIMORE (PRWEB) September 23, 2021
Saul Zaentz Innovation Fund (SZIF), the firebrand incubator fund for emerging filmmakers, today announced its 2021 Fellowship recipients. In all, 21 projects were selected, for a total of 23 Fellows, including two filmmaker teams. In keeping with the Fund's mission to bring greater diversity to the film industry, over half the Fellows are female (61%) and a majority (70%) are people of color.
Film projects this year explore critical social and political issues such as PTSD, childhood trauma, and housing inequality. Shedding light on these and other social issues is a keystone of the fund's mission in amplifying otherwise hidden stories of the Baltimore community, along with other major problems throughout the country.
2021 Fellowship Winners
This year's selected projects include six documentary features, five short documentaries, one documentary series, five narrative features, one narrative short, two narrative series, and one XR film. The selected fellows and their corresponding projects:
DOCUMENTARY:

"My Block" by Myles Michelin
"War in My Mind" by Shaun Redden
"Baltimore Ballet Boys" by Joshua Davidsburg and Bridget McGeady
"Prom City" by Preston Boyd
"The Periscopic Gaze" by Kalima Young
"Southbound" by Samuel Burch
"Hard to Get and Dear Paid For" by Savanah Wood
"Everlasting Life" by Paul K Oh
"Castle of Memories" by Julia Golonka
"Black Women Build Baltimore" by Dena Fischer
"Through the Eyes of Others" by Meagan Lopez
"The Price of Freedom" by Emily Thomas
NARRATIVE:
"Vacants" by Cheyanne Givens
"Under The Wolf Tree" by Aisha Molake
"Senior" by Toroes Thomas
"McCulloh St" by Krenee Tolson
"Come in to My Arms" by Zara Kahan
"Cloud Nebula" by Scott Patterson
"Akhilandeshvari" by Annalisa Dias
"Stealing Cars" by Stephen Schuyler and Marly Hernandez
NEW MEDIA (XR):
"There is no One What will Take Care of you" by Dina Fiasconaro
"Our primary mission is to give voice to those whose stories have been ignored or usurped," said Annette Porter, the Director of the Saul Zaentz Innovation Fund. "The fund's future remains focused on bringing attention to injustices facing minority communities. Admission into this program allows up-and-coming filmmakers in our community to highlight stories and issues you don't see in the news every day."
Fellowship winners will bring their film projects to life with the support of SZIF mentoring programs, and through participation in ambitious story development and screenplay labs with successful industry entrepreneurs, veteran film executives and prestigious artists. Funding grants for further development and production start in January.
"We are honored to work with a world-class group of deeply generous and inspiring industry experts. The mentorship program is always a highlight for Fellows," said Porter. "These mentors offer their advice, guidance and practical knowledge, and help each Fellow explore new production and distribution models. Each Fellow is paired with a series of mentors who encourage the Fellow to think deeper about their projects and help them overcome challenges or obstacles."
Founded in 2016, The Saul Zaentz Innovation Fund addresses under-represented communities in film, television, and immersive media and provides fellows with tools for success in their film careers. The fund announced a three-year partnership extension with Johns Hopkins University earlier this year, further aiding in SZIF's founding vision to promote diverse storytelling and representation in filmmaking.
For more information about the Saul Zaentz Innovation Fund, please visit https://zaentzfund.com/.
About the Saul Zaentz Innovation Fund in Film and Media
Founded in 2016, The Saul Zaentz Innovation Fund in Film and Media at Johns Hopkins University seeks to further the pioneering legacy of Mr. Zaentz by connecting the Baltimore creative community with prestigious artists, veteran executives and successful entrepreneurs in an incubator program designed to nurture project ideas that will advance the art and craft of audiovisual media http://www.zaentzfund.com.
# # #
"My Block Doc" by Myles Michelin
Myles Michelin has lived in Baltimore for over 20 years. He makes films that show the positive side of Baltimore because of the stigma and negativity attached to the city's image. By starting with something small like a city block, Myles feels this and his future projects will help change the stigma and help correctly tell the stories of the city by the people who live there. Myles sees this project not just as a series, but as a way to help residents of the city have their voices heard throughout Baltimore.
Logline. My Block Doc will be a short series where Myles travels to different blocks in Baltimore and interviews residents on camera. Some of the residents will be a part of the story behind it - the history of the block, the people that have just moved in, the people that have lived there for 20+ years, and everyone in between. Think "House Hunters," but with genuine people and a focus on the block, people, and community.
"War In My Mind" by Shaun Redden
Shaun Redden is an Army combat Veteran and current CEO of R.S. Solutions, a government contracting firm in Baltimore city. An active member of the Baltimore Veteran community, Shaun has made it his personal mission to influence change in the military discharge and reintegration process.
Logline. Rigorously trained for war, yet barely prepared for after is the shared burden of millions of soldiers returning home from Afghanistan and Iraq. For US Combat Veteran Shaun Redden and his war-bonded brothers, returning to civilian life with PTSD is the war they were least ready for. These are their raw, in-depth stories and a critical examination of America's inadequate transition process.
"Baltimore Ballet Boys" by Josh Davidsburg & Bridget McGready
Josh Davidsburg is an award-winning journalist and filmmaker. His first feature-length documentary Queen of the Capital is screening at film festivals across the country. Josh also teaches documentary and broadcast journalism as a full-time lecturer at the University of Maryland, College Park, Philip Merrill College of Journalism.
Bridget McGready is an award-winning photojournalist and cinematographer. Currently, at WBAL, Bridget has worked in the Baltimore market since 2004. While working full-time in broadcast news, she spent 4 years teaching video production to graduate and undergraduate students and is a licensed drone operator.
Logline. A documentary following the lives of inner-city Baltimore boys, who are students at a prestigious ballet preparatory school (Peabody), using dance as a path to a better life.
"Prom City" by Preston Boyd
Preston Boyd is a Baltimore native, screenwriter, and filmmaker. Preston graduated from Jackson State University before earning a Master's degree in Film & Media from Johns Hopkins University.
Logline. A group of high school seniors from Baltimore embark on an engrossing journey to bid the most epic adieu on prom night.
"The Periscopic Gaze" by Kalima Young
Dr. Kalima Young is an Assistant Professor in the Department of Electronic Media and Film at Towson University. She received her Ph.D. in American Studies from the University of Maryland College Park. Her research explores the impact of race and gender-based trauma on Black identity, media, and cultural production. A Baltimore native, videographer, and activist, Dr. Young is also a member of Rooted, a Black LGBTQ healing collective. Her manuscript, "Mediated Misogynoir: The Erasure of Black Women and Girls' Pain the Public Imagination" is scheduled to be released by Rowman and Littlefield's Lexington Books in 2022.
Logline. The Periscopic Gaze is a visual essay that explores Black women's acknowledged and unspoken ancestral survival strategies.
"Southbound" by Samuel Burch
Sam Burch is a young filmmaker born and raised in Baltimore, Maryland. Sam lives with his wife Lia and one-year-old daughter Lottie. While working for non-profit Kennedy Krieger Institute, Sam is in the process of earning a graduate degree from Johns Hopkins' film and media program.
Logline. Southbound follows the story of (Sam's Uncle), Ken Jones, an African American man born in 1954, who spent his adolescent summers in the segregated town of Meridian, Mississippi. He recounts stories from his travels south, how he navigated Jim Crow laws, his encounters with the Ku Klux Klan, as well as his own connection with civil rights activists from an infamous tragedy.
"Hard to Get and Dear Paid For" by Savanah Wood
Savannah Wood is an artist and cultural organizer with deep roots in Baltimore and Los Angeles. Wood works primarily in photography, text and installation to explore spirituality, domesticity, and identity-formation, often in relation to place.
Logline. Hard to Get and Dear Paid For traces the founding of the AFRO American Newspaper — Maryland's oldest Black-owned business — to a former plantation in Montgomery County. Grounded in historical research and contemporary interviews, this project explores the life of Enoch George Howard, a slave turned entrepreneur, and his legacy, which can still be felt 7 generations later.
"Everlasting Life" by Paul K Oh
Paul Oh is a Korean-American filmmaker. He received a BFA from University of Maryland, Baltimore County (UMBC). He has worked as a Grip on multiple television productions including "The Good Fight", "Law & Order: SVU", "New Amsterdam" and "Jigsaw".
Logline. A widowed store owner experiences intense despair after a robbery.
"Castle of Memories" by Julia Golonka. Hybrid Documentary
Julia Golonka is an editor and cinematographer with a degree in film from the Maryland Institute College of Art. She has worked on documentaries covering a diverse range of topics including fine artists and prisoner reentry. She notably worked on "Anatomy of Wings", a film 12 years in the making about an after-school program that became a family.
Logline. Castle of Memories is an exploration of the memory palace memorization technique and the ever-developing relationship between technology and how we remember.
"Black Women Build Baltimore" by Dena Fischer
Dena Fisher is a self-taught multi-media artist, licensed clinical social worker, social justice activist, and native Baltimorean. Currently, she works as a project coordinator, freelance photographer, and documentarian. She has worked as a photographer and photojournalist for USVI Daily News, a West Indies Pulitzer Prize-winning newspaper. Her most notable work was serving as a documentarian for the USVI's cultural ambassador's journey to Santiago, Cuba in 2016.
Logline. Carpenter Shelley Halstead is on a mission to transform a block of abandoned row houses in Baltimore into a community of Black women homeowners, challenging generations of racism and sexism in housing. When tensions arise within the diverse group of young women she's teaching to build, Shelley is forced to rethink her vision of community.
"Through the Eyes of Others" by Meagan Lopez
Meagan Adele Lopez is a Cuban-American from Baltimore with a diverse background. She started her career in casting for films such as "Juno", "The Day the Earth Stood Still" and "Wanted" and television shows like "Medium" and "Numb3rs" in Los Angeles. Years later, she shifted gears to digital marketing where she went on to lead the New York Times' global digital advertising teams out of Paris, London and Hong Kong. She left the NYTimes to fulfill her dream to make films. Her directorial debut for her short, dark comedy film on the subject of female rage, "Raging Cult" landed her nine awards in various film festivals, including Best First Time Director and Best Dark Comedy. She is currently working on her first feature documentary, "Through the Eyes of Others" which asks the question - "through whose eyes are we living our lives?". She studied at Baltimore School for the Arts, University of Southern California as a National Hispanic Scholar and Dean's Scholar, and La Sorbonne in Paris.
Logline. They were professionally trained childhood actors; destined to be stars. None of them made it. Twenty years later, one woman goes back to Baltimore to find out what happened to their dreams.
"The Price of Freedom" by Emily Thomas
Emily Thomas is a nonfiction filmmaker and cinematographer based in Baltimore driven by a passion for documenting the human experience. Her work is rooted in the belief that stories are the most powerful way to connect people, bridge cultures, and embolden the voiceless. Her most recent film, "Last Days at Paradise High", is a documentary chronicling the end of adolescence in the wake of a devastating wildfire in Northern California that burned down the town of Paradise. The film was screened at film festivals around the country and was originally published in The New Yorker. She is currently working on her first feature-length documentary, The Price of Freedom, a vignette film that illuminates the hidden worlds at the gates of the criminal justice system. Her work can be seen on Frontline, CBS, POV, The Guardian and many others.
Logline. America is one of two countries in the world that still puts a price tag on freedom. As the cash bail industry faces extinction, we journey across America to understand its dark origins and imagine a brighter future without wealth-based detention.
"Vacants" by Cheyanne Zadia Givens
Cheyanne Zadia Givens is a multidisciplinary artist, producer, and singer-songwriter. Her works reflects her experience and background growing up in Baltimore, Maryland. Cheyanne released her debut project "Vacants" in 2020 and was named Baltimore's Best New Artist. Her artistry also includes directing, producing and curating events for emerging artists and entrepreneurs.
Logline. A musical journey through the landscape of West Baltimore inspired by the 18,000 vacant homes in Baltimore City orchestrated through the lens of Zadia's debut album of the same name.
"Under The Wolf Tree" by Aisha Molake
Aisha Molake is a writer and visual artist based in Maryland. Her work is driven by a desire to stimulate empathy for vulnerable groups and promote a diverse representation of African American life. She is a student of the Johns Hopkins University MA in Film and Media program.
Logline. Enchanted by the spirit of a missing boy, a curious child unwittingly takes her siblings on a journey through a forest with a dreadful secret and must find a way back home.
"Senior" by Toroes Thomas
D Thomas Jr. is a filmmaker who uses his life experiences as inspiration for new stories. Toroes received his B.S. in Screenwriting and Animation from Morgan State University. In 2017, he experienced the sudden loss of his father. Using his father's passing as inspiration, he directed and co-wrote "The Beach", a short film about an unforgettable experience. "The Beach" won Best Short Film at the 2019 Denton Black Film Festival and second place at the 2019 Made in Baltimore Short Film Festival. Today, Toroes is gearing up to produce his first feature film "Senior."
Logline. After a struggling father takes his two kids on the run from social services, he and his son must navigate the foster care system in order to find their way back to each other.
"McCulloh St" by Krenée A. Tolson
Krenée A. Tolson is a writer, producer and actor born and raised in Baltimore, Maryland. Her authentic, gut-led approach to filmmaking uses a universal approach to exposing the unheard stories of the underrepresented.
Logline. Mr. and Mrs. Bucknor relocate themselves and their five daughters from South Carolina to Baltimore, MD. in the '70s for better opportunities and to escape the close-mindedness of the South. When the sweet southern family's patriarch falls victim to the city's alluring party scene the family has no choice but to learn how to make it in the crack-infested streets of Baltimore.
"Come in to My Arms" by Zara Kahan
Zara Kahan is a Malaysian-born filmmaker and mixed media artist based in Baltimore. She has written and directed a feature film and digital series. Her work was nominated for an Asian TV Award, and Malaysian cable company Astro Malaysia optioned her feature film. She is a Leslie King Hammond Fellow.
Logline. A young Asian-American woman struggles with grief over the death of her abusive mother and is helped by the ghost of her ancestor.
"Cloud Nebula" by Scott Patterson
Scott Patterson is a pianist and composer of incomparable talent. His blend of classical, soul and rock music is futuristic, emotive and luxuriant. Scott is a recipient of the 2020 Regional Independent Artist Award for Performing Arts from the Maryland State Arts Council, a 2019 Baker Artist Award, Mary Sawyers Imboden Awardee, and is a recipient of a Creative Baltimore Fund Grant and Artist/District Grant. While music is at the center of Patterson's artistic practice, curiosity and a series of unique experiences have taken him beyond the realm of the performing arts and into film. Thus, enabling him to bring his skills as a pianist, composer, librettist, arranger and performer into territory that is uncharted, but endlessly fascinating. Currently, Scott is transforming what began as a theatrical work into a screenplay called "Cloud Nebula".
Logline. Set in a distant future and galaxy, Jakub, a young black woman with a special power, rises to oppose the army of the Monolith and the onslaught of the unstable star Osei, by accepting her fate of becoming the star of a new planetary system.
"Akhilandeshvari" by Annalisa Dias
Annalisa Dias is a Goan-American transdisciplinary artist, community organizer, and award-winning theatre maker working at the intersection of racial justice and care for the earth. She is Director of Artistic Partnerships & Innovation at Baltimore Center Stage. Annalisa is also a Co-Founder of Groundwater Arts. Prior to joining BCS, Annalisa was a Producing Playwright and Acting Creative Producer with The Welders, a D.C. playwright's collective; and a Co-Founder of the D.C. Coalition for Theatre & Social Justice. Annalisa's work has been produced or developed by The Welders, Theater Alliance, Signature Theatre (D.C.), Arena Stage, the Phillips Collection, The Gulfshore Playhouse, the Mead Theatre Lab, The Hub Theatre, Spooky Action Theater, Tron Theatre (Glasgow), and OverHere Theatre (London).
Logline. A Goan woman and her ancestors reach for one another across 500 years and the vastness of the Indian Ocean. Fluidly moving between three overlapping storylines (one in present-day Goa amid contested ideas about land use and conservation; one in1540s Goa at the onset of Portuguese Jesuit expansion; another in 1870s Portuguese Mozambique at the beginning of the diamond rush), AKHILANDESHVARI is a poetic, visceral examination of the past and how we understand belonging.
"Stealing Cars" by Stephen Schuyler and Marly Hernández Cortés
Stephen Schuyler grew up in Baltimore City. He completed his MFA in Fiction at the University of Maryland. Most recently, he won the Short Script category of the 2020 Austin Film Festival Screenwriting Competition, as well as the first-place feature category and both first and third-place short screenplay categories of the 2020 Baltimore Screenwriting Competition. His short films have been supported with grants and assistance from the Saul Zaentz Innovation Fund, Panavision, the National Hispanic Foundation for the Arts, and other organizations.
Marly Hernández Cortés, grew up in Aguadilla, a small town on the west coast of Puerto Rico. In New York she studied acting at Circle in the Square and HB Studios. Marly received her M.F.A. in directing and film production at NYU's Tisch School of the Arts. Most recently she became a 2020 Zaentz Film Fellow (SZIF) and Production Grant recipient through Johns Hopkins University. She is the recipient of a British Academy of Film and Television Arts (BAFTA) scholarship, National Hispanic Foundation for the Arts (NHFA) grant/scholarship, and Alfred P. Sloan Foundation grant. Her thesis film "Mala" was made with the support of a Panavision Production Grant and received an award grant from the Hollywood Foreign Press Association, having its world premiere at the Austin Film Festival. The film went on the screen at the Baltimore Museum of Art. She has a passion for all things green, growing and decaying; from gardening to composting.
"There is No One What Will Take Care of You" by Dina Fiasconaro
Dina Fiasconaro is a Baltimore screenwriter and film director who has honed her projects at MacDowell Artist Residency, Dorland Mountain Arts Colony, Stowe Story Labs, Saul Zaentz Innovation Lab and GrrlHaus Cinema Seminar in Berlin. She is the recipient of a 2021 Baker Artist Award, a Professor of Film & Moving Image at Stevenson University, a member of Film Fatales, and founder of the Baltimore Women's Media Alliance, working towards gender parity in the film industry.
Logline. There is No One What Will Take Care of You is a 3-channel video installation that explores the empathetic relationships between a father, daughter and friend whose lives are tragically impacted by addiction.