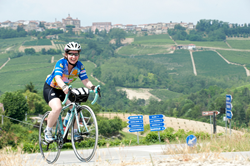 No bicycle tour brings you closer to the spirit, people, and treasures of Piedmont.
(PRWEB) June 23, 2015
Ciclismo Classico, a leading outfitter of cycling vacations around the globe, is offering a gastronomically-focused Piedmont cycling tour this fall. Guests will stay in family-run 4-star hotels, dine at the best local restaurants, and pedal through the vineyards and villages of Piedmont. The historic food and wine regions of Gavi, Acqui Terme, Alba, and lower Monferrato will serve as the focal points of this seven-day tour scheduled for 09/30/15 - 10/06/15 and 10/10/15 - 10/16/15 and starting at $4,595.
"This bike tour of Piedmont unveils a region which has achieved the status of gastronomic and enological perfection," said Ciclismo Classico Founder Lauren Hefferon. "Guests will pedal quiet roads, sip local wines, relax at heavenly villas, and dine in some of Italy's finest restaurants."
Covering 165 total miles, this Piedmont holiday exemplifies the best of European biking tours. Guests will discover both world-famous and little-known local wines such as Barolo, Barbaresco and Barbera, explore the castles of Monferrato, soak in the famed thermal waters of Acqui, witness the hypnotic geometry of the Nizza hills, and much more. Local experts will discuss the tradition of wine-making and the nuances of the area's many micro-climates that give the wine its prized sophistication.
"We'll join a local truffle hunter and his dog for a hunt, ride some of the most beautiful routes in Italy, enjoy five-star meals, and conclude our tour at the elegant and romantic Relais San Maurizio spa in Santo Sefano Belbo," said Hefferon. "No bicycle tour brings you closer to the spirit, people, and treasures of Piedmont."
For more information on this Piedmont cycling tour or other Italy cycling tours, visit http://www.ciclismoclassico.com/find-your-trip/confirmed-tours/ or call 1.800.866.7314.
About Ciclismo Classico:
As a specialized "boutique" tour operator since 1988, Ciclismo Classico provides the most authentic, unique and exciting vacations in the adventure travel industry. Its well-crafted educational trips are active immersions into local art, language, music and, of course, cuisine. By combining legendary service and rare cultural experiences, the Ciclismo philosophy continues to energize and transform each and every guest.