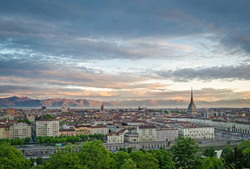 Piedmont is considered the cradle of the Italian enogastronomic experience. It is here that you find the king and queen of Italian wines, Barolo and Barbaresco, and where the rare white truffle finds its home
Chicago, IL (PRWEB) October 20, 2014
Piedmont is the region where Italian history, landscapes, gourmet food and wine meet all in one place. Select Italy (http://selectitaly.com), the web-based boutique travel company, offers an all-around array of tours and activities to adventure this away-from-tourist-route region.
Piedmont can fulfill the expectation of any traveler who wishes to experience Italy's signatures: fine food and wine, ancient history, and astonishing panoramas. It is considered a gourmet paradise and autumn's prominent destination, largely due to the International White Truffle Fair of Alba. The Langhe area is the latest addition to the Italian UNESCO sites, taking them to 50, and an ideal landscape for a Wine tasting & Truffles hunting full day excursion or a wine tour of Barolo Wineries. Select Italy's wine and truffle excursion includes an introduction the world of white truffles and their hunting, followed by a visit to the medieval city of Asti and a wine tasting tour of renowned producers. The Barolo tour is dedicated to historic wineries and includes lunch in the village of La Morra and a visit to the famous city of Alba.
Besides foodie experiences, Select Italy offers guided tours and museum tickets in Turin, Piedmont's capital. The half day private walking tour of Turin offers insights into the historical and cultural significance of landmarks such as The Royal Church of San Lorenzo, Piazza San Carlo, the Mole Antonelliana, and also allows travelers to indulge in the finest pastry shops and visit the most popular chocolate makers of the region. The region is home several important sites and museums - the Egyptian Museum and la Venaria Reale are listed in the 20 most visited tourist attractions in Italy - and with the Torino + Piemonte Card it is possible to benefit from admission to more than 200 cultural sites.
"Piedmont is considered the cradle of the Italian enogastronomic experience. It is here that you find the king and queen of Italian wines, Barolo and Barbaresco, and where the rare white truffle finds its home," says Martina Zuccarello, Food and Wine Specialist at Select Italy, "It is also one of the regions that is most active in the preservation and cultivation of Italian food and wine, as it is the home of both the Slow Food Movement and Eataly. Any visitor to the region, therefore, not only experiences Piedmont's fantastic products, but is also received with open arms by the people, who are eager to share their culture, history, and cuisine. A food and wine tour in the Piedmont is the quintessential Italian experience of great food, hospitality, and, eventually, memories."
The complete portfolio of services can be consulted on company website. For more information about Select Italy's services visit selectitaly.com or send an email to info(at)selectitaly(dot)com.
About Select Italy
Select Italy® is The Ultimate Source for Travel to Italy® and offers a wide array of superior Italian travel products and services, including customized itineraries, state-of-the-art tours and packages, wedding/honeymoon trips, unique culinary classes, a complete pre-departure ticketing service for museums and musical events, private guided services, yacht charters, transportation, hotel reservations, villa bookings and more. Through a vast network of suppliers and cultural contacts, anything and everything you need for optimum travel to Italy is possible with Select Italy. Based in Chicago with an office in New York and Shanghai and support staff in Italy, the company has expanded its offerings and travel services to the Balkans with the launch of Select Croatia®.