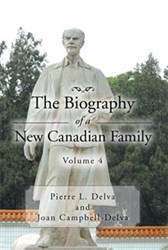 Kingston, Canada (PRWEB) September 13, 2013
Authors Pierre L. Delva and Joan Campbell-Delva carefully pen a comprehensive, detailed and engaging narrative that tells their memorable and interesting experiences in the world of the academe in The Biography of a New Canadian Family Volume 4. This book highlights their fruitful and blissful stay in Canada and their many unforgettable achievements through the years.
A Happy and Informative Present: at the new Université de Sherbrooke, Pierre Delva had developed a four-month teaching program for clinical nurses prior to their departure to the Canadian Far North where they would be in charge of a Nursing Station. In 1973, a group of them gave him a parting gift, the French translation of "The Scalpel and the Sword" by Ted Allen and Sydney Gordon (Toronto, 1952); the French version was by Jean Paré. 'Docteur Bethune' (Montreal, 1973). Pierre and Joan thought that it was odd that the French version of any book normally took 20 years to appear on the scene.
Skillfully written and pleasantly refreshing, The Biography of a New Canadian Family Volume 4 is a delightful and appealing volume that readers would really enjoy. It is an ambitious and eventful book that is very well written eloquently and delicately.
For more information on this book, interested parties may log on to http://www.Xlibris.com.
About the Author
In 1975, Pierre L. Delva's career led him to 1'hospital du Sacré-Coeur where Dr. Bethune worked for over five years (1930-1936), his first experience in a non-English environment before going to Spain and China where he died in 1939. He became Delva's last model. During the last seven years of his life, Dr Bethune was able to adapt in a masterful way to three completely different important complex situations on three different continents (January 1930 to November 1939). On the social side, Joan Campbell-Delva became secretary of the Montreal-based Norman Bethune Foundation. A year later, Pierre became its fourth Chairman, eventually becoming responsible for a professional exchange program between Montreal and China, working most of the time at the Bethune International Peace Hospital in Shijiazhuang, Hebei Province (1989 -1994). Joan was responsible for a TESL program, Pierre for a medical teaching program.
The Biography of a New Canadian Family Volume 4* by Pierre L. Delva and Joan Campbell-Delva
Pulblication Date: September 5, 2013
Trade Paperback; $19.99; 337 pages; 978-1-4797-7872-0
Trade Hardback; $29.99; 337 pages; 978-1-4797-7873-7
eBook; $3.99; 978-1-4797-7874-4
For more information, contact Xlibris at (888) 795-4274 or on the web at http://www.Xlibris.com.