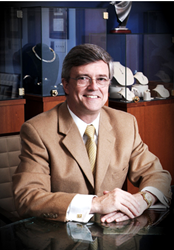 "With the increase of smart devices accessing websites, the addition of responsive design is critical to the success of every business. Pieter Andries Hye is typically first to adapt to new technology that benefits his business."
Southlake, Texas (PRWEB) December 23, 2013
Pieter Andries, Creators of Fine Jewelry, launched its newly redesigned website in November, showcasing its custom jewelry design, diamond and gemstone evaluation, jewelry repair, appraisal and insurance replacement services. Incorporating a custom website design to complement the company's brand, along with sophisticated responsive architecture, the new website offers a more visually appealing and engaging experience for users.
Developed by i5 web works (http://www.i5ww.com), the website's home page provides links to in-depth information about Pieter Andries' extensive diamond selection ('Diamonds'), exclusive bridal collection ('Engage'), and custom jewelry design ('Custom'). The website's responsive design ensures that the site automatically adjusts according to each device's screen size and orientation, providing users with a browsing experience tailored to their device.
"With the increase of smart devices accessing websites, the addition of responsive design is critical to the success of every business," says Michael Burns, Principal/Co-owner of i5 web works, "Pieter Andries is typically first to adapt to new technology that benefits his business."
The 'Collections' section offers online photo galleries with some of Pieter Andries' broad selection of fine jewelry and natural gemstones, as well as the largest selection of rare diamonds in North Texas:

Engagement Rings
Diamond rings
Wedding bands
Necklaces
Earrings
Bracelets
Pearls
Men's Cufflinks
Other Created Designs
The 'Our Passion' section includes a detailed description of the experience and design process at Pieter Andries, the fine jewelry showroom and onsite workshop, and biographies for founder Pieter Andries Hye and members of the team.
The 'Services' section includes a description of services, company press releases, and frequently asked questions. Contact information is conveniently located on every page, as well as a dedicated 'Contact Us' section with location, store hours and e-mail form for general inquiries. The contact section of the new website also includes links to social networking pages for Pieter Andries, Creators of Fine Jewelry, including Facebook and Pinterest.
For more information, visit http://www.pieterandries.com or call 800-233-3459.
About Pieter Andries, Creators of Fine Jewelry
Whether it is a redesign or a dream about to become a reality, the creative design expertise that Pieter Andries has cultivated over 40 years, as a Master Goldsmith and American Gem Society Certified Gemologist, is reflected in each of his creations. Skilled professional craftsmen work under the direction of Pieter Andries utilizing state-of-the-art equipment and design technology to create a masterpiece of perfection and beauty – including diamond engagement rings, wedding bands and custom jewels. Offering the largest selection of rare, conflict-free diamonds in North Texas, Pieter Andries guarantees customer satisfaction of every piece of jewelry he creates. At Pieter Andries, it's all about YOU! For additional information, call (800) 233-3459 or go to http://www.pieterandries.com.