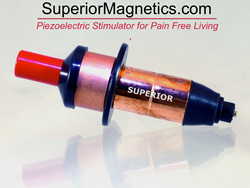 We are excited to discover the US Naval Doctors are relieving pain using a piezoelectric stimulator
Raleigh, North Carolina (PRWEB) August 29, 2013
Pain Free Living web: SuperiorMagnetics.com, a leader in innovative pain relief products, announced US Navy Doctors are using the Piezoelectric Stimulator. Naval doctors at Naval Medical Center in San Diego, California have been using piezo stimulators for a variety of pain symptoms. The piezoelectric stimulator uses electrical stimulation to restore proper electrical flow.
"For 12 years we have used piezoelectric stimulators for Pain Free Living," explained Shu Arvilla of SuperiorMagnetics.com. "We are excited to discover the US Naval Doctors are relieving pain using a piezoelectric stimulator. We manufacture a piezoelectric stimulator which is available at SuperiorMagnetics.com."
For information on the new magnetic bracelet, go to:
http://www.superiormagnetics.com/
What is a Piezoelectric Stimulator and what are the benefits of piezo stimulation?
Excerpts taken from the publication "Piezoelectric stimulation Technique of Acupuncture Points" by Richard C. Niemtzow, MD, Ruben T. Ong, MD, and Peter A. S. Johnstone, MD.
Piezoelectric stimulation may provide quick and temporary relief, and sometimes may be the only treatment necessary to the patient. All living cells produce small electrical voltages across their membranes. These electrical voltages, called transmembrane potentials, can be correlated directly with the state of the membrane and the metabolic process that alter the movements of molecules across the membrane and the inherent membrane permeability. Piezoelectric stimulation of acupuncture points has immediate medical applications in the clinic. It offers rapid relief of acute pain, migraine headaches, musculoskeletal pain, nausea and vomiting, and hoarseness due to viral laryngitis.
About SuperiorMagnetics.com Piezoelectric stimulator for Pain Free Living
Pain Free Living has provided piezoelectric stimulation for pain relief for over 12 years at fairs and festivals. Now you can buy the innovative handmade piezo stimulator online at SuperiorMagnetics.com.
Contact Superior Magnetics for Pain Free Living for a Piezoelectric Stimulator
Web: http://www.superiormagnetics.com
Tel: +1 909 336-7514