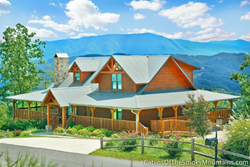 Gatlinburg, TN (PRWEB) August 13, 2015
Venture Resorts (http://www.CabinsOfPigeonForge.com), the largest cabin rental agency in the Smoky Mountains, has announced a special "last minute" travel deal for this weekend. From August 14-16, guests can save 30% off rates on all remaining one-bedroom to four-bedroom cabin rentals, and 50% off all larger cabins.
With this weekend's special, a one-bedroom rental like the company's "Little Bear" cabin is available for as little as $98 per night, after discount. The same cabin rents for $175 per night during peak season. Two-bedroom rentals like Venture Resorts' "Paradise Point" cabin are available for as little as $116 per night. That compares to peak season rates for $235 per night for the same cabin.
"The last half of August is one of the best times to come to the Smokies," says Billy Parris, general manager of Venture Resorts. "The school year has already started in some districts, so that means less demand and some great cabin deals."
August is a top season for outdoor activities in the Smoky Mountains, says Parris. Popular activities include horseback riding, whitewater rafting, and of course, hiking the Great Smoky Mountains National Park.
Venture Resort's cabins are a long way from the rustic cabins of yore. The company's cabins are really luxury log homes that feature full kitchens, large living rooms and game rooms with features like pool tables, air hockey tables and arcade games. Many larger cabins also have home theaters with big screen TVs.
Venture Resorts offers over 500 rental cabins in and around Gatlinburg and Pigeon Forge, Tennessee.
For more details, visit the company's website at http://www.CabinsOfPigeonForge.com or call (866) 347-6659. Cabin prices vary by cabin based on size, amenities and cabin location. Guests can visit the company's web site to see current rates for all cabins, with this weekend's promotions discounts applied at the time of booking.
The promotion is not available for existing reservations. Discounts do not apply to cleaning, resort and other fees.
About Venture Resorts
Venture Resorts is the largest luxury cabin rental agency in the Smoky Mountains, managing over 500 cabins within minutes of Great Smoky Mountain National Park and family-friendly attractions in Gatlinburg and Pigeon Forge, Tennessee. The company started life as Gatlinburg Falls Resort, but now rents cabins throughout the area.
For more information, call (866) 347-6659 or visit one of the company's web sites http://www.cabinsofthesmokymountains.com or http://www.cabinsofpigeonforge.com.