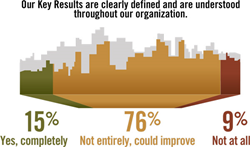 Not defining Key Results and, worse still, failing to communicate them throughout the organization may be the most expensive management oversight ever...
San Diego, CA (PRWEB) February 19, 2015
New research reveals that only 15% of organizations say Key Results are clearly defined in a way that employees at all levels can engage, pointing to a large-scale and prevalent misalignment around key organizational goals. The result is widespread confusion, significant organizational underperformance, and failure to meet key objectives among the majority of the world's companies. The findings were taken from the 2014 Workplace Accountability Study conducted by Partners In Leadership, a leading training and consulting firm.
"This new research really reveals what employees think is going on—or not going on," said Roger Connors, CEO of Partners In Leadership, the study's sponsor. "Organization leaders should recognize the downstream consequences of under-defined and poorly communicated Key Results. In our work with thousands of companies, we've found that when people actually know what they're expected to achieve, businesses thrive. Not defining Key Results and, worse still, failing to communicate them throughout the organization may be the most expensive management oversight ever and a tragedy at nearly every level."
"Surprisingly, employees across the organization often have competing views of what their organizations aim to achieve, something that can be remedied by clearly defined, organization-wide Key Results," continued Connors. "Organizations serious about change—the best organizations—typically define a small handful of memorable, measurable, meaningful Key Results—usually 3 to 5—and, thereby, reduce employee confusion to nearly zero. Nothing creates alignment more surely than a clear statement of the results you want to achieve."
For more information,attend one of Partners In Leadership's upcoming complimentary webinars on workplace accountability or visit their "2015: Your Year of Culture" page for a set of free resources on the subject.
About the Workplace Accountability Study
Recently, Partners In Leadership completed the largest study of its kind—with over 40,000 participants from thousands of organizations over the course of three years—on the subject of workplace accountability. Learn more about additional results from the Workplace Accountability Study by Partners In Leadership.
A Management Team Success Story
Read the full story of how Brinker International, one of the world's leading casual dining restaurant companies with over 100,000 team members, reduced their Key Results from 40 to four, resulting in a 10x increase in price per share, a return of 20% profit to shareholders, industry-leading guest satisfaction scores, and their lowest employee turnover rate.
About Partners In Leadership®
Partners In Leadership is the world's premier provider of Accountability Training® and Culture Change services. Our mission as a consulting firm is to help our clients achieve their mission, and our #1 award-winning content and global network of professionals across the world have enabled thousands of companies and millions of people to achieve dramatic results, reporting billions of dollars in improved shareholder wealth, saving hundreds of thousands of jobs—resulting in some of the highest praised and best places to work in the world.
Recently named to the Inc. 5000 fastest growing, privately held companies in America, Partners In Leadership was founded in 1989 by Roger Connors and Tom Smith, the four-time New York Times bestselling authors of the most extensive body of knowledge on workplace accountability ever written. They are considered the worldwide experts on workplace accountability. Learn more at http://www.partnersinleadership.com.