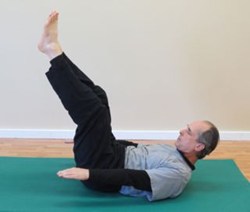 ...the best exercise that uses your own body for resistance.
Northampton, MA (PRWEB) August 16, 2013
One of the hottest fitness trends is using your own body, instead of equipment, to exercise. Now for the first time, PilatesLessons.org offers a quick, easy, and inexpensive way to do this with a new HD streaming video program.
With no need for equipment or a gym, exercise is more convenient than ever before. No more rushing to the gym before it closes. No more squeezing classes into a busy schedule. Exercise at home or during a work break with this new exercise program. All you need is a computer screen and internet connection.
This new video program teaches a 30-minute workout that combines stretching, strength training, and cardio - everything that the body needs for exercise. It presents the classic Pilates mat program in a new way that makes it quick and easy to learn. These are the same exercises used by physical therapists for rehabilitation, and by elite athletes for core conditioning.
Created by Bob Hannum, M.Ed, advanced certified instructor of Pilates for over 35 years, this program is specially designed to appeal to any age and fitness level.
In Bob's own words, "I exercise because I have to, so I want it to be quick and complete. This new program is only 30 minutes and includes everything your body needs. It is the best exercise that uses your own body for resistance. Best of all it's so convenient I can do it anywhere and anytime – at home, at work, in hotel rooms, and even in airports!"
Here's what his students say:

"Your class has always been the gold standard for Pilates for me and nothing I have tried has come close to comparing!" - Jane M.
"I tried Pilates twice before and the instruction was too complicated and overwhelming. Your instruction is easy to follow and makes Pilates simple to learn." - Paula B.
Additional information is available at PilatesLessons.org.