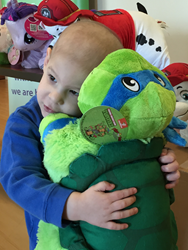 "We believe in Family Reach's mission to provide a financial lifeline to families fighting cancer. The matching donation on our website and the continued donation of Pillow Pets are a great way for us to give back", said Jennifer Telfer, CEO.
Carlsbad, CA (PRWEB) October 25, 2016
CJ Products, Inc., the manufacturers of Pillow Pets, iconic folding plush stuffed animals, today announced a new initiative to support its long time charity partner Family Reach Foundation with a new donation button at checkout for customers with online purchases made from the website. Customers can now join Pillow Pets' efforts to help families facing financial burdens due to cancer, with a new option to round-up their total to make a donation or provide an amount of their choosing. Pillow Pets will match the donation. All proceeds will be used to directly help Family Reach support families fighting cancer tackle the often overlooked financial devastation brought on by the disease.
Since its introduction nearly 13 years ago, Pillow Pets character-inspired plush have become a must have on every kids wish list, and the product line continues to grow while bringing joy to millions of children across the country. The addition of the donation button on its online store further supports the longstanding relationship with Family Reach, which dates back nearly a decade. Through generous monetary and in-kind donations to Family Reach, Pillow Pets has brought comfort, love and financial relief to families facing a cancer diagnosis nationwide.
"We believe in Family Reach's mission, and are happy to continue to support them as our charity partner. Over the past seven years, we have donated more than 6,000 Pillow Pets to families in need, and are happy to add this additional support," said Jennifer Telfer, Founder of Pillow Pets. "This initiative is just one small way our company and customers can help make a big difference for families fighting cancer."
Everyday living costs often get pushed to the side as families try to cope with payments for treatment and out-of-pocket medical expenses. This is where Family Reach steps in, offering a financial lifeline that addresses families' full financial health through a number of tools, from direct monetary assistance to financial planning and beyond. These programs recently gained attention from Vice President Joe Biden's Cancer Moonshot Task Force, giving Family Reach the opportunity to elevate awareness and serve families at a level like never before.
"Family Reach is thrilled to have the continuous support of Pillow Pets. Their donations not only make a difference in the lives of the families we work with, but their products bring comfort and joy to children when they need it most. Seeing the children's faces light up when they receive a Pillow Pet is incredibly heartwarming," said Carla Tardif, CEO of Family Reach. "Every donation counts when helping families in need, and we are grateful to Pillow Pets for encouraging their customers to support this important cause."
To learn more about Pillow Pets and the donation feature on their website, visit https://mypillowpets.com/ Find out more about Family Reach Foundation at http://www.familyreach.org.