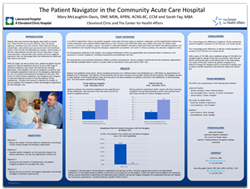 Cleveland, Ohio (PRWEB) July 01, 2014
The Center for Health Affairs' patient navigation pilot program at Lakewood Hospital, a Cleveland Clinic hospital, was the focus of "The Navigator in the Community Acute Care Hospital" poster presentation at the Case Management Society of America (CMSA) 2014 Conference and Expo.
During the conference, held on June 17 at the Cleveland Convention Center and Global Center for Health Innovation, CHAMPS Patient Experience's Sarah Fay and Cleveland Clinic's Mary McLaughlin-Davis revealed the key findings of The Center for Health Affairs' patient navigation pilot program.
During this pilot program, one full-time lay navigator became a member of the interdisciplinary team at Lakewood Hospital's emergency department and was able to increase compliance of patients with known non-adherences to their discharge plan. This intervention resulted in the following:

Medicare patients who received navigation services experienced a 30-day readmission rate 4 percent lower than those who did not receive navigation services.
Self-pay patients experienced similar results with those receiving navigation services demonstrating a revisit rate 5 percent lower than those who did not receive navigation services.
Of the 1,531 patients who worked with the Patient Navigator, only 3.16 percent were readmitted.
The 4 percent difference in Medicare 30-day readmission saved the hospital a minimum of $29,702 over a six-month period.
The 5 percent difference in self-pay revisits equated to a savings of $127,102 over a six-month period.
With a salary of $35,000, and a combined savings of $156,804, the navigator paid for herself in less than two months. After that her efforts contributed solely to the bottom line of the organization. The results of the pilot confirm lay patient navigation is an effective strategy for hospitals that are interested in finding ways to improve patient experience and positively impact the bottom line.
To learn more about The Center for Health Affairs' patient navigation pilot program and how patient navigation has the capacity to improve healthcare delivery, contact Sarah Fay at sarah(dot)fay(at)chanet(dot)org or 216.255.3638.
###
As the leading advocate for Northeast Ohio hospitals, The Center for Health Affairs provides members with vital services and resources aimed at enhancing the region's healthcare community. The Center delivers on this goal by focusing its efforts on areas that benefit from a regional approach: Healthcare Workforce; Emergency Preparedness; Public Policy & Advocacy; Finance & Reimbursement; and Community Initiatives. With a rich history as the Northeast Ohio hospital association, dating back to 1916, The Center serves as the collective voice of hospitals and the source for Northeast Ohio hospital and healthcare information. As leaders, we continuously scan the periphery, looking for opportunities to enhance the region's workforce, better prepare our hospitals for an emergency, and increase the region's wage index. And because of our business affiliation with CHAMPS Healthcare, we have the resources to provide a broad level of professional services to our members. The Center, located in downtown Cleveland, is proud to advocate on behalf of 38 acute-care hospitals and two long-term acute-care hospitals in six counties. For more, visit chanet.org.