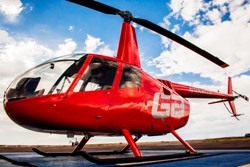 Prescott, AZ (PRWEB) August 07, 2013
Guidance Aviation, a leading VA approved helicopter pilot training school with locations in Prescott, Arizona and Baton Rouge, Louisiana, has added a Robinson R66 turbine helicopter to its fleet.
"The R66 is powered by a Rolls Royce RR300 and will cruise at 125 kts. With significantly improved performance at high altitude, the Robinson R66 turbine helicopter fits nicely into Guidance Aviation's training regime. There's a good chance a number of our graduates may fly this type of aircraft for their first job," states Dave Roy, Director of Flight Operations. "The R66 will support our ongoing turbine transition training and of course our high altitude training."
Guidance currently has 55 employees, fourteen aircraft, and a waiting list of incoming students. Helicopter flight training students at the Prescott, Arizona and Baton Rouge, Louisiana locations may acquire their Associate of Applied Science, AAS, Aviation Technology Degree–Helicopters through Guidance Aviation's collegiate partner programs in as little as 19 months. These helicopter college degree programs are VA approved for eligible U.S. Military Veterans using their Post 9/11 G.I. Bill benefits, which means up to 100% of the helicopter pilot training costs are covered by the Veterans Administration.
The R66 turbine helicopter acquisition follows a number of significant developments for Guidance Aviation. In July of this year, Guidance opened its second flight training operation in Baton Rouge, Louisiana. In partnership with Baton Rouge Community College, the Louisiana helicopter flight training program is now the first and only collegiate helicopter pilot school based in State through which students can become Certified Flight Instructors – Instrument (CFI-I) and earn their Associate of Applied Science (AAS) degree. Additionally, Guidance Aviation's President and CEO, John Stonecipher, was awarded the prestigious Person of The Year Award during the 50th Annual Small Business Week by the National Small Business Administration in Washington, D.C. in June of this year. The national event included nominees from each state as well as business leaders and the Second Lady of The United States, Dr. Jill Biden.