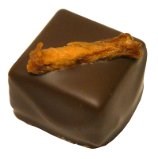 Toronto, Ontario (PRWEB) December 11, 2013
Patrick Smets, the chocolatier at Ambiance Chocolat, infused blonde chocolate with caramelized pineapple and coconut, then topped it with dark chocolate and tropical undertones. A sliver of natural dried pineapple crowns the top. The result is appealing – both visually and taste-wise.
The Pineapple-Coconut rounds off the rest of the offerings – none too sweet or cloying and all very well balanced. All recipes are originals – the result of endless experimenting and more than twenty years of chocolate making experience. No bonbon ever tastes exactly the same from batch to batch.
Says Patrick: "After tasting the chocolate I've just made, I can always think of something to tweak it so that it will be more balanced the next time. This is what Ambiance is all about." Humbly suggesting that their chocolates are exceptional due to the ingredients, he elaborates: "I use the best ingredients available. The equation is simple: I can only get out of my chocolates, what I put in them." Patrick excels at pairing single-origin chocolates, each with its own unique taste profile, to their perfect counterpart, be it cream, nuts, fruit, or a spice or herb.
Ambiance Chocolat was started by three friends with passion for quality chocolate, in late 2007.
The goal was to create the best chocolates in the city. Judging by the customer response they have succeeded. Since the humble twelve flavour opening six years ago, their selection has more than doubled in size. In addition to the line of chocolates, a small selection of baked goods, as well as fair trade coffees and teas are available. Most of the packaging is recycled and recyclable, made in North America. The online shop has enabled the company to expand their reach beyond the city limits, also with success. The packages are shipped via UPS to all destinations in Canada.