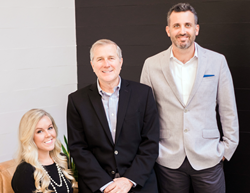 We are very pleased that Pineapple House designs are among the most tagged and collected from the enormous Houzz database of thirteen million images.
Atlanta, GA (PRWEB) March 07, 2017
Pineapple House Interior Design is a 2017 winner in two categories on the popular home design and remodeling database Houzz. The industry giant recognized the Atlanta-based design/build firm with two exclusive awards: 2017 Best of Houzz Design and 2017 Best of Houzz Service. This is the third consecutive year that Pineapple House has been voted by the Houzz community of over 40 million monthly users as their "Best of Houzz Design."
Pineapple House Senior Vice President of Design, Zach Azpeitia, comments, "We are very pleased that Pineapple House designs are among the most tagged and collected from the enormous Houzz database of 13 million images."
The 2017 Houzz awards join a number of interior architecture and design honors on Pineapple House's curriculum vitae:
Online:
2017, 2016, 2015 Best of Houzz DESIGN
2017, 2015 Best of Houzz SERVICE
International
2017 Panel Judge, Envision Design International Competition
2016 Most Innovative Designers in the USA by BUILD
2015 Construction & Engineering's Best Interior Design: Georgia
2008, 2007 and 2006 Residential "Best of the Best" from International Interior Design Association (IIDA)
National:
2017 Best Residential Interior Design, GA, Mid-Shore Excellence Awards
2016 - 2001 A total of 40 Design Excellence awards from the American Society of Interior Designers (ASID)
2015 HGTV Panel Judge, "Fresh Faces of Design"
2014 "Small Business Person of the Year" US Small Business Administration's (SBA) 1st runner up, GA
Local:
2016 Best of Atlanta by AA Program
2016 Top Atlanta Designer by EXPERTISE
2015 Best of Interior Design: Georgia by BUILD
2014 - 2013 Top Atlanta Interior Designers by Atlanta Business Chronicle
2008 Best Places to Work (# 6) by ATLANTA magazine
2004 Best Places to Work (top 75) by ATLANTA magazine
Television:
CNN, NBC, CBS, HGTV, the Discovery Channel, Bravo, USA, the Travel Channel, TBS, DirecTV and MTV
Print:
Hundreds of magazines, coffee table books, college text books, industry manuals
About Pineapple House Interior Design:
Pineapple House Interior Design is a think-tank of creative minds with expertise in interior design, architectural design, décor, furnishings and construction. Based in Atlanta and working both nationally and internationally, award-winning designers guide clients through any aspect of the design/build process, from decorating a single room to building a new home or hotel. Visit pineapplehouse.com for more information.
About Houzz:
Houzz is the leading platform for home remodeling and design, providing people with everything they need to improve their homes from start to finish – online or from a mobile device. With the largest residential design database in the world and a vibrant community empowered by technology, Houzz allows people to find inspiration, get advice, buy products and hire the professionals they need to help turn their ideas into reality. Headquartered in Palo Alto, CA, Houzz also has international offices in London, Berlin, Sydney, Moscow and Tokyo. Houzz and the Houzz logo are registered trademarks of Houzz Inc. worldwide. For more information, see houzz.com.