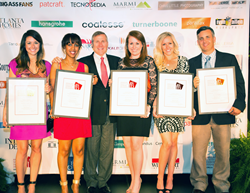 Atlanta, GA (PRWEB) December 14, 2016
2017 marks the 35th anniversary for Pineapple House Interior Design, Inc., creating beautiful homes throughout the United States, Canada and the Caribbean. Since 1981, the Atlanta-based firm has earned over 60 professional awards for their interior architecture and design work, including recognition from the US government for outstanding entrepreneurial achievements.

One of a Kind: Only firm in US history to receive "Design Excellence" honors from the industry's esteemed professional organization, the American Society of Interior Designers, for 15 consecutive years, consisting of 40 "Design Excellence" awards in Georgia.
Online/Social Media: Voted the "Best of Houzz - DESIGN" in 2016 and 2015, from a database of over one million Houzz industry professionals.
International Recognition: Named 2016's "Most Innovative Designers" by AI Global. Won Georgia's Residential "Best of the Best" in 2006, 2007 and 2008 from the International Interior Design Association (IIDA.)
National: Received 2016 award for "High End Interiors of the USA" by BUILD, and in 2015, BUILD's "Construction & Engineering's Best Interior Design: Georgia."
Media: Founder Stephen Pararo was an HGTV Panel Judge for 2015's "Fresh Faces of Design."
Business/National: US Small Business Administration's 1st runner up for the State of Georgia for the 2014 "Small Business Person of the Year" -- Pineapple House founder Stephen Pararo.
Business/Local: ATLANTA magazine named Pineapple House Interior Design as # 6 in the city's in "Best Places to Work" in 2008, and in the "Top 75" in 2004.
Other accomplishments:

Television exposure: CNN, NBC, CBS, HGTV, the Discovery Channel, Bravo, USA, the Travel Channel, TBS, DirecTV and MTV.
High-End Home Publication: 2016 Architectural Digest online feature of Pineapple House's work with client (Hollywood producer) Will Packer.
Books: Most recent release -- Schiffer Publishing's 2016 "Condo Makeovers: Inventive Ideas for Vertical Living," by Ashley Rooney, features two of Pineapple House's award-winning design/build renovations.
Other Publications: Hundreds of magazines/coffee table books/college text books/industry manuals.
About:
Pineapple House Interior Design is a think-tank of creative minds with expertise in interior design, architectural design, décor, furnishings and construction. Based in Atlanta and working both nationally and internationally, award-winning designers guide clients through any aspect of the design/build process, from decorating a single room to building a new home or hotel.