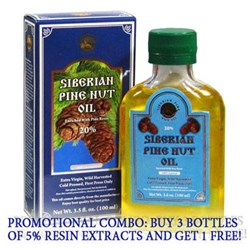 Pine nut oil is world renowned as an all-natural, and effective appetite suppressing dietary supplement.
(PRWEB) February 14, 2014
Healthy Lifestyle supplement superstore Pine-nut-oil.com today announced that they are running a special holiday promotion in honor of Valentine's Day. Customers are encouraged to visit Pine-nut-oil.com to take advantage of a special "buy 3 get 1 free" on appetite suppressing, 20% enriched pine nut oil.
"We are happy to give our loyal customers a Valentine's Day gift in the form of pine nut oil," said Victor Rod, CEO of Pine-nut-oil.com. "Our buy three get one free promotion is being offered with our customer's health in mind. Using pine nut oil is a great and easy way to improve one's fitness, and live a healthier lifestyle!"
Pine nut oil is world renowned as an all-natural, and effective appetite suppressing dietary supplement. Pine nut oil has been extracted from the pine nuts of the Ural Mountains for generations, and is revered for its medicinal properties.
"Pine nut oil has been used by our ancestors in Russia for ages," said Victor Rod, CEO. "In those days, it was lauded as a curative natural extract of pine and cedar nuts. Indeed, pine nuts are a great way to help supplement your health even today."
The recommended dose for pine nut oil is one tablespoon once or twice per day, usually before a meal. A tablespoon of oil taken before breakfast is enough to boost your daily energy, and increase your focus and attentiveness throughout the day.
Pine nut oil can also be used for cosmetic purposes as well. It can be added to the skin to increase moisture and to rejuvenate dry skin, and can even be used to raise the vitality of one's hair. In addition, pine nut oil can be used to relieve headaches or pains by gently rubbing it on the forehead and temples.
"We at Pinenutoil.org sincerely hope that all of our clients have a wonderful Valentine's Day, and hope that they enjoy the special discount offer we have given them as a thank you for being so loyal," said Victor Rod, CEO.
To learn more about the health benefits of pine nut oil, and for inquiries or purchases, please visit http://www.pine-nut-oil.com or call 248-218-0888.
About Siberian Pines:
The Siberian Pines Company has been a leading producer and supplier of Siberian pine nut oil since 2003. Siberian Pines produces high quality 100% cold-pressed pine nut oil and supplies it worldwide. They maintain the highest quality product and service by managing the process from the collection of Siberian pine nuts, to the production of the oil and delivering it to your front door.