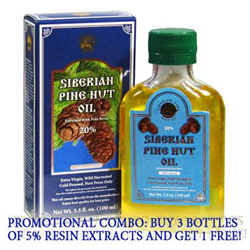 The cleansing effect that the oil has on the body grants the body increased energy and allows the body to function more efficiently
(PRWEB) March 25, 2014
Limited time promotional offer on 10% enriched pine nut oil. For a limited time, customers can take advantage of a special "buy three get one free" deal on 10% pine nut oil enriched with resin from Siberian pine trees.
"We are pleased to offer this special limited time deal to our loyal customers," said Victor Rod. "pine nut oil can be very effective at promoting good health. For our company, the health and wellbeing of our customers is a very high priority for us. We want our customers to be happy, healthy, and living the most satisfying lives that they can."
Pine nut oil always been revered for its curative properties, and can be very helpful for those pursuing a healthy lifestyle. Pine nut oil with pine resin turpentine balsam can be used for a restorative process for the body known as the "Siberian cleanse." The Siberian Cleanse is simple and does not cause stress for the body. Resin is a powerful antiseptic, and when it is ingested along with pine nut oil from Siberian cedar trees, it can increase immunity to disease and promote a healthy lifestyle.
The cleansing effect that the oil has on the body grants the body increased energy and allows the body to function more efficiently. The Siberian Cleanse is especially effective in those who have diets that consist of green vegetables and very little meat. The cleanse is most effective in those who have vegetarian or vegan diets, which are largely free of fatty oils from animals.
"The Siberian cleanse is just one of the uses for this special product," said Victor Rod. "Pine nut oil enriched with Siberian cedar resin can also be used for skin care and as a home remedy for headaches and to control bacteria in the digestive system. We believe that including enriched pine nut oil as part of your daily health routine can prove to be very beneficial to your health and wellbeing."
To learn more about the natural healing ability of Siberian Pine Nut Oil enriched with Resin, please visit http://www.PineNutOil.us.
About Siberian Pines:
The Siberian Pines Company has been a leading producer and supplier of Siberian Pine Nut Oil since 2003. Siberian Pines produces high quality 100% cold-pressed pine nut oil and supplies it worldwide. They maintain the highest quality product and service by managing the process from the collection of Siberian pine nuts, to the production of the oil and delivering it to your front door.