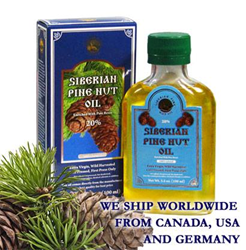 Pine nut oil is especially effective in easing the symptoms of gastritis
(PRWEB) April 29, 2014
Pine Nut Oil.org today announced that they are currently running a new promotion on their pine oil enriched with 5% resin from Siberian pine trees. For a limited time, customers who purchase three bottles of the 5% enriched Siberian oil will get a fourth bottle added to their order for no charge.
"We are proud to offer this limited time promotion to the loyal members of the Siberian Pine Nut Oil community around the world," said Victor Rod of PineNutOil.org. "Users of enriched Siberian oil are a very close knit group, despite being spread all around the world. In the spirit of community, we are offering a free bottle of 5% resin enriched oil to anyone who buys three bottles."
The oil enriched with resin from Siberian pine trees has been revered for generations in Russia for its curative properties, and general effect on one's wellbeing. In addition to providing relief from the symptoms of a number of stomach ailments, including ulcers, gastritis, and H. pylori bacteria, resin enriched oil from Siberian pine trees can be used for cosmetic purposes such as skin and hair care.
Pine nut oil is especially effective in easing the symptoms of gastritis. Numerous users have posted reviews on PineNutOil.org raving about the positive effect that the oil had on their wellbeing after they took the oil for gastritis.
"It is clear that many are purchasing their oil for help with ailments such as gastritis," said Victor Rod. "We are happy that our product can help these people to ease their symptoms and speed up their recovery from these illnesses."
Siberian pine nut oil enriched with resin from cedar trees can be an effective natural alternative for many products that people use in their day to day lives that are synthetic or potentially toxic. To learn more about the natural healing ability of Siberian Pine Nut Oil enriched with Resin, please visit http://www.PineNutOil.org.
About Siberian Pines:
The Siberian Pines Company has been a leading producer and supplier of Siberian Pine Nut Oil since 2003. Siberian Pines produces high quality 100% cold-pressed pine nut oil and supplies it worldwide. They maintain the highest quality product and service by managing the process from the collection of Siberian pine nuts, to the production of the oil and delivering it to your front door.