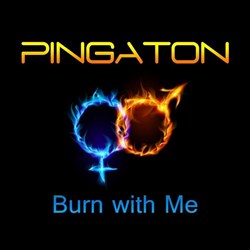 (PRWEB) February 01, 2014
The word is out and you will certainly agree that Pingaton is one of the coolest and freshest artists House scene in Europe has welcomed in the past few years. His music is a blend of innovation, energy and positivity.
Pingaton loves to mix genres just like Tieso and David Guetta do but his music is definitely not a copy of their works. The fact that distinguishes Pingaton from the musical style of heavy weights is that he draws inspiration from the retro Eurodance genre of music and cleverly remixes the modern elements and necessities to create a piece that sounds phenomenal and original. He knows what the public wants and he also knows about his personal preferences. His tracks have a soul of their own which stands out in the end.
"Burn with Me" is nothing short of a music lover's delight. It has the x-factor that everyone needs to have in club music. There is a certain kind of sensual appeal in the beats that instantly grabs your senses. You are going to love this track because of the positive energy, exclusivity and creativity in music that it offers. Pingaton's favorite gritty electro flavor is evident from this track like his previous offerings but the difference is made by the use of heavy bass-line. "Burn with Me" is a delectable and entertaining track from the beginning through to the end.
"Burn with Me" by Pingaton is available on all prominent digital music stores and can be downloaded from Beatport and iTunes.
For more information on Pingaton, please visit:
http://www.pingaton.com
http://www.facebook.com/pingaton
http://www.soundcloud.com/pingaton