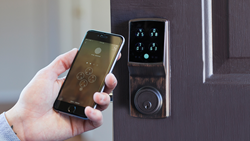 We've had booming success with our smartphone security solutions so far, so we decided to take it a step further with our PIN Genie Smart Lock.
SAN FRANCISCO (PRWEB) September 06, 2016
PIN Genie, a Silicon Valley startup, is well-known for their ultra-secure PIN Genie Vault application in the iOS App store and PIN Genie Locker application for Android users. After paving their way through the smartphone market in recent months, PIN Genie has launched a crowdfunding campaign on Kickstarter for their new, patent-pending smart lock for homes.
"We've heard horror stories of people's homes being broken into, whether at work, at home or away on vacation. We've had booming success with our smartphone security solutions so far, so we decided to take it a step further with our PIN Genie Smart Lock," said PIN Genie Founder Lee. "Our smart lock offers a variety of features that puts consumers in control of who enters and exits their home and has a unique technology that deters intruders."
The PIN Genie Smart Lock is equipped with a patent-pending touchscreen pad that combines a 10-digit passcode into just four buttons. After each use, PIN Genie reshuffles the numbers so no one can guess a user's unique code. In addition to its peep-proof and hidden camera-proof features, PIN Genie is also able to connect with a user's iOS or Android smartphone to open the door if they are within Bluetooth range. There is also the option to open the door manually with a key.
PIN Genie appeals to Airbnb and VRBO hosts with its ability to assign temporary guest codes for visitors only valid during the duration of their stay. Users can also assign codes to each family member or roommate without worrying about lost keys. The lock's easy D.I.Y. installation process also makes it a simple, user-friendly smart home device.
PIN Genie made sure to include a "Safe Home Mode" for the lock too. Users can turn off the touchscreen pad when they're home to prevent anyone from entering their home. There is also an alarm that will be triggered automatically should someone attempt to break in. The new smart lock surpassed the home security standard with a variety of certifications, including UL, BHMA 156.40 / 156.36(grade B) and more. After three failed passcode attempts, PIN Genie Smart Lock will be disabled for added security.
The PIN Genie Smart Lock is available both with and without the smartphone application. The basic PIN Genie Smart Lock is estimated to retail at $159 while the premium PIN Genie Smart Lock, which comes with app control, will sell for $209. However, the company's Kickstarter campaign is offering Super Early Bird deals where backers can purchase their own lock(s) starting at $111. For more information on PIN Genie Smart Lock, visit the campaign at bit.ly/PINGenieKS.
About PIN Genie
PIN Genie Inc. is a technology startup founded in Silicon Valley in 2014. The team is comprised of experts specializing in both security software and electronic hardware developments. PIN Genie's team recently launched two security applications available for both iOS and Android users. Both applications have been well received among security experts, consumers and press. PIN Genie recently launched a crowdfunding campaign for their new PIN Genie Smart Lock, ideal for homes. For more information on PIN Genie, visit their website at http://www.pin-genie.com.