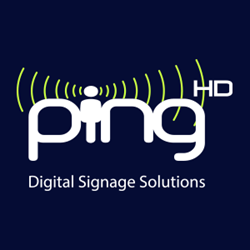 Beacon Technology Strengthens the EngagePHD™ Platform
Denver, CO (PRWEB) February 05, 2016
Ping HD, a leading provider of digital signage solutions across multiple industries, is pleased to announce Beacon support for the award-winning, cloud-delivered EngagePHD™ digital signage platform.
EngagePHD™ was developed to address the growing need for a low-cost, robust and scalable Digital Signage platform that is an easy-to-use, cloud-delivered content management and network monitoring application. EngagePHD™ has been built using the latest web technologies that works seamlessly with the intelligent SoC (System on a Chip) displays manufactured by Samsung and LG Electronics in addition to Windows, Chromebox and Android-based media players.
Adding support for Beacon technology strengthens the EngagePHD™ platform by expanding marketing, branding and loyalty options for retailers, restaurants, sports teams, hoteliers, airlines…pretty much any organization that has or is developing a mobile application for their patrons, guests and customers.
The Beacon itself is simply a device that transmits small amounts of data via Bluetooth Low Energy (BLE) up to 150 feet. LG recently integrated Beacons into their SM5B range of webOS displays and Radius Networks have USB-powered Beacons available. Here's how it works: Typically, the selected smartphone mobile application will be looking for Beacons in the background, and once detected, it will look for the data transmitted by that Beacon. From here, EngagePHD™ and the mobile application will perform a search in the EngagePHD™ Cloud (using cellular data/Wi-Fi) to see what content is associated with that Beacon ID. Once this connection is made, the user or customer can receive customized content to his or her smartphone. Examples may be: a) a coupon, call to action or product information. b) interrupt Digital Signage content running on a nearby display and show customized personal messaging to that user or customer. From a marketing perspective, the possibilities are endless for Ping HD's clients.
As part of support for Beacons, Ping HD has an Android and iOS app that can be used for demonstration; however, an API is available so that the code can be incorporated into any existing mobile application of a specific organization. According to Kevin Goldsmith, Chief Technology Officer at Ping HD, "As adoption of EngagePHD™ continues to accelerate, adding support for the latest technologies will remain Ping HD's primary objective to ensure that new and existing customers have all the tools they need for effective digital communication."
EngagePHD™ will be powering LG webOS displays with integrated Beacons at the Digital Signage Expo 2016, hosted at the Las Vegas Convention Center on March 16th & 17th, 2016.
For more information, visit http://www.pinghd.com/beacon-technology
About Ping HD
Ping HD is a full service, end-to-end digital media company. Ping HD provides affordable, scalable, flexible, and innovative digital signage software solutions. Ping HD tailors their approach to meet your specific requirements and make the most of your investment. Ping HD digital signage solutions are tailored to meet the needs of the travel, hospitality, sports, QSR, retail, corporate and education industries.