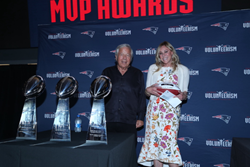 "When you walk in someone's shoes you understand the path that lies ahead, If I can make that road a little less bumpy and help with the challenges that come along with a breast cancer diagnosis, I know I can make a difference in someone else's life."
WESTPORT, Conn. (PRWEB) August 25, 2021
The Myra Kraft Community MVP Awards were presented to 26 women and men who exemplify leadership, dedication, and a commitment to improving their communities through volunteerism. Originally known as the Community Quarterback Awards, they were renamed in 2011 to honor the late Myra Kraft who committed her life to volunteering.
Patriots Chairman and CEO Robert Kraft, New England Patriots Foundation President Joshua Kraft and Pro Football Hall of Famer and Patriots Executive Director of Community Affairs, Andre Tippett, recognized twenty-five organizations with grants of $10,000 each in honor of their outstanding volunteers. One grand prize winner received a surprise $25,000 donation.
Amy Katz of Westport, Conn. received a $10,000 donation in honor of her work for the organization she cofounded, Pink Aid. The nonprofit's mission is to help underserved patients with breast cancer survive treatment with support and dignity, to provide screening to those in financial need, and to empower breast cancer survivors to heal by helping and inspiring others.
Since its founding in 2011, Pink Aid has donated more than $6.5 million to 47 different programs and hospitals - in all corners of the state of Connecticut and on Long Island. Through its Pink Purse program, Pink Aid provides direct financial assistance to cover essential household expenses like rent and utility bills, babysitting, and transportation to and from treatment. To date, Pink Aid has provided more than $500,000 in emergency financial assistance to more than 1,000 women. Since many Americans live paycheck-to-paycheck, the current pandemic with its impact on employment is further fueling the financial crisis for families across the country. During the 2020 pandemic, Pink Aid's Pink Purse program was expanded nationally to meet that increased need. Pink Aid has already funded over 100 women and received applications from 28 states.
Following the ceremony, Amy reflected on her involvement with Pink Aid, "I am humbled to be recognized in this way, but I really don't think of what I do every day as volunteering. It's a part of me and my daily life. I feel like my personal mission is to help other women who have been diagnosed with breast cancer to get to the other side with strength, positivity, dignity, resources, and realistic expectations. The unknown is often so much scarier than the disease itself."
"To me, life is all about paying it forward - taking my own knowledge and experience and sharing it in a positive way," continued Amy. "Eventually, there is a transformation that will happen as a woman moves from a patient to healer. There is no more rewarding experience for me. To be recognized for what fills my heart each and every day is a gift. This gives me hope that we at Pink Aid are creating a movement and it all starts with compassion."
"When you walk in someone's shoes you understand the path that lies ahead," Amy continued. "If I can make that road a little less bumpy and help with the challenges that come along with a breast cancer diagnosis, I know I can make a difference in someone else's life."
To learn more about Pink Aid, donate or to apply for emergency assistance, please visit http://www.pinkaid.org.