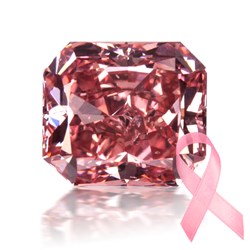 We would love to bring an end to breast cancer ... and make each and every one of you crucial partners in this effort.
New York, NY (PRWEB) October 03, 2013
This October you can have your diamond and do good too. Diamond Envy is proud to announce that 5% of every pink diamond sale this month will be donated to breast cancer research. Additionally, the CEO of Diamond Envy will match every $1 over $5,000 raised.
"What better way is there for us to show the women in our lives how much we care than to give back?" says Diamond Envy's Dina Silverberg. "Engagements, weddings, anniversaries, the birth of our children, and, of course, big promotions, are all celebrated with beautiful sparkling reminders of each milestone. We would love to add bringing an end to breast cancer to the list and make each and every one of you crucial partners in this effort."
All eligible products for the fundraiser are marked with a pink ribbon on the site. Every shade of pink diamond and pink diamond jewelry available for sale on the website is included. Any pink, pink-brown, pinkish brown, purple-pink, purplish pink, orangy pink, gray-pink diamond qualifies – in short, any diamond or jewelry item with 'pink' indicated in its color grade is eligible for the fundraising effort to help end breast cancer. The prices of these products range from $600 to over $500,000, making the potential for charity enormous yet accessible to many.
About Diamond Envy
Diamond Envy is an e-commerce website for natural colored diamonds and natural colored diamond jewelry. We only sell naturally colored diamonds sourced from ethical, conflict-free suppliers. We pride ourselves on our friendly and available customer service. Think of us as your jewelry concierge—available to you in whatever capacity you need, whether as a design liaison, gemology educator, or a hand to hold through your first jewelry purchase. Call us, email us, or chat with us when we're online. It's our job to be available to you throughout the buying process to ensure your full satisfaction.