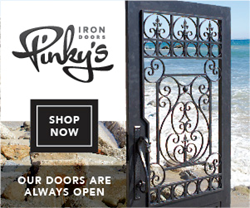 Los Angeles, CA (PRWEB) September 20, 2017
Pinky's Iron Doors has been crafting wrought iron doors for thousands of customers for more than 40 years. Today, to better serve its customers, the main web page at http://www.pinkysirondoors.com is undergoing some important changes in order to provide an easier to navigate and user-friendly experience. The page has undergone a top-to-bottom redesign, and we think that customers love the services it provides as they navigate the iron doors and other décor options that Pinky's Iron Doors offer.
This new website launch is designed to make the Pinky's Wrought Iron Doors experience more user-friendly and makes finding exactly what you're looking for much easier. The newly relaunched site provides the ability to differentiate offered products by door style, glass-type options, door size, and the door handling itself (which way it swings).
The site has plenty of selections for customers to choose from; in fact, customer's find it much easier to drill down and find the iron doors, metal doors, metal windows, and wrought iron doors that customers looking for home or business. Customers will even be able to select energy efficient materials and glass types front door.
Pinky' Iron Doors specializes in iron, metal doors and windows, and commitment to customer's sense of style and security has been what has kept us in business this long, and Pinky's Iron Doors wanted to ensure that it gave customers the best possible browsing experience. With this newly relaunched site, customer will find that locating the door that they need will be easy, and if they can't find desired door, then Pinky's offers several custom options that will bring design ideas to life.
Pinky's Iron Doors wants to provide its customers with the best possible service and convenience because that's what Pinky's Iron Doors delivered for customers for these past four decades. Pinky's Iron Doors Founder, Dion Der had this to say about the relaunch and redesign of Pinky's site, "It really is important for us to provide the best possible experience for customers, so Pinky's Iron Doors updated the website to fit the times was a no-brainer. The new site is super easy to navigate and it has a perfect user experience for customers to really get the doors that they want."
About Pinky's Iron Doors: Pinky's Iron Doors has been providing wrought iron doors to customers across the country for 40 years. Pinky's Iron Doors has been founded on a principle of quality workmanship; Pinky's Iron Doors a family business and they take pride in the work that they do for customers who depend on Pinky's Iron Doors for style, functionality, and security.
CONTACT INFORMATION
Pinky's Iron Doors
6007 S. St. Andrews Pl, Unit #5
Los Angeles, CA 90047
Phone: (844) 843-6677
Email: info(at)pinkysirondoors(dot)com