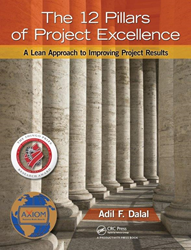 'The 12 Pillars of Project Excellence book is a game-changer in the field of project leadership and organizational excellence – don't miss the enlightening experience of learning from it.' - Mr. Kalipatnapu
Austin, TX (PRWEB) August 29, 2014
Author Adil Dalal's book, "The 12 Pillars of Project Excellence: A Lean Approach to Improving Project Results", published by CRC Press in 2011, has won critical acclaim from several prominent industry leaders and University professors alike. The book distills the author's knowledge, expertise and insight gained from leading over 300 global projects, into a practical and groundbreaking formula for leading successful culture transformations. It has already won two prestigious awards, namely, the 2013 Axiom Business Book Award in the category of Organizational Management, Lean and Continuous Improvement, and also the 2014 Shingo Research & Publication Award.
Mr. Kalipatnapu, says, "I perused at least a dozen project management books prior to selecting the 12 pillars book for review. While scanning the 12 Pillars, I found the book to have a systematic and thorough approach to illustrating the concepts. I was intrigued even more by some of the chapter titles in Dalal's book and promptly made my selection. As an experienced project manager, I could instantly gauge that it was more than just a project management book – and that there is a deeper learning for me and the PMI audience from the vast project leadership experience of the author Dalal."
After spending over three months on behalf of PMI to dive deep into the 650 page award-winning book, Mr. Kalipatnapu concludes, "The 12 pillars are a pioneering formula of people and processes for executives and project managers of all levels to achieve project success. By understanding these 12 pillars and following them like a formula, executives can achieve success on all projects, resulting in optimal use of organizational resources and maximal profits." He further adds, "…through theory, case studies, assessments and action plans, the book attempts to transform project managers of all levels into project leaders, and organizational culture into a culture of excellence. All executives must develop a thorough understanding of the 12 pillars formula to achieve desired outcomes and success on all projects undertaken." Visit the PMI Book Review section of Community Discussions to read in its entirety Mr. Kalipatnapu's review of the each Pillar of "The 12 Pillars of Project Excellence."
PMI members can attend the concluding book review webinar of Author Adil Dalal's "The 12 Pillars of Project Excellence: A Lean Approach to Improving Project Results" on October 17 from 11:30 AM - 12:30 PM EDT by logging in and registering here.
The Project Management Institute (PMI) is the world's leading not-for-profit professional membership association for the project, program and portfolio management profession. It delivers value for more than 2.9 million professionals working in nearly every country in the world through global advocacy, collaboration, education and research.
Mr. Kalipatnapu has a masters in computer science and an MBA with about 25 years of experience working in the industry in software and systems engineering, and portfolio/program/project management. He has been working in Program Management Support on various programs to various federal agencies including the DoD, DHS, NASA for over 8 years.
Mr. Adil Dalal is the CEO & President of Pinnacle Process Solutions International® LLC. He was recently awarded the 2014 Global Award for Outstanding Contribution to Quality & Leadership by the World Quality Congress, He has pioneered several innovations in lean and in leadership and is a sought after sensei, executive coach and strategic business partner as he continues to effectively and successfully drive strategies for excellence, growth and long-term success within organizations. He has also authored "A Legacy Driven Life: Live a Legacy to Leave a Legacy" (2012), and co-authored "The ASQ Lean Handbook" (2012) and "Change Your World" (2013). Adil holds two master's degrees and is certified in Project Management (PMP), Executive Coaching (BCC), Lean (LBC) and Quality (CQE). He is currently completing his PhD degree in Performance Psychology. For more information about leadership in consulting, coaching, or keynote speaking. cultural transformations and human capital enhancements, visit http://www.pinnacleprocess.com or contact Adil at info(at)pinnacleprocess(dot)com.