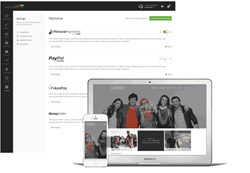 Phoenix, Arizona (PRWEB) July 29, 2014
PinnacleCart 3.8.0 is now available to all new customers. Utilizing customer input and ten years' of experience building the world's premier ecommerce application, a fresh new look and feel of the application was released today.
"We couldn't be prouder of the product we are rolling out today. Refreshing our offering and exceeding industry standards was at the forefront of our collective minds during this project. We're very confident we have achieved our objective," states Michael Auger, President & CEO of Pinnacle Cart, Inc.
Expect to see a simple, intuitive interface in the administrative area resulting from a total design and functionality update. New template offerings now showcase a 100% responsive elements,, eliminating the need for separate mobile templates. Customers are only three short steps away from selling with the new PinnacleCart Glide set up process.
Justin Reynolds, Vice President of Marketing for Pinnacle Cart, Inc explains: "Our customer base has asked for more leading edge technology in regards to design and functionality. PinnacleCart has always been built with incredibly powerful marketing and SEO capabilities, so we turned our attention to the design/user experience elements with this release."
Nearly every component of the administrative area has received a facelift. Functionality has been tightened up and improvements can be seen throughout the platform. As one of the most mature ecommerce platforms available today, customers can expect flawless performance from the PCI certified application. Take the new platform for a free test drive at http://www.pinnaclecart.com.
PinnacleCart, Inc. (http://www.pinnaclecart.com) is an Arizona based company celebrating its tenth year in business in 2014. Its flagship product, PinnacleCart, provides scalable ecommerce solutions to small business owners. Through the all-in-one platform, users can quickly set up website stores, sell on Facebook and have a true mobile experience for their customers. PinnacleCart is the top choice for businesses looking to truly be successful online.