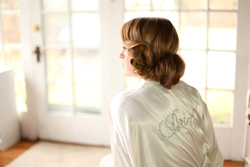 "Anything is Possible!"
New York, NY (PRWEB) December 18, 2014
As 2014 comes to a close, Professional Wedding Hairstylist and beauty guru Lauren DeCosimo of Pinned and Proper reflects on experiences collected over the year. DeCosimo has composed and now publishes tips for brides-to-be aimed to create a stress-free wedding morning.
Lauren DeCosimo notes "the morning of your wedding will be a memory for years to come, and hopefully a good one. To ensure that it goes smoothly and according to plan, there are a few things that every bride should keep in mind."
-Hire a professional:
"Whether you have the money for a wedding planner, "morning of coordinator" or not, you will have several industry professionals present. Ask them questions; you want to understand the process and timeline. We understand it isn't every day that you get married, but we do have the privilege of being a part of many weddings."
-Work with a Hairstylist and Makeup artist you are comfortable with:
"Personality, Responsiveness and Energy are very important. You want to work with someone you feel comfortable enough with to share your feelings. They can make or break the start of your day. Anything can happen, and trust me, with ten years of experience, I have seen it all. So work with artists and vendors that bring energy and excitement to the room, vendors that understand and describe the vision you are trying to achieve. They will capture the look and influence your day."
-Ask lots of questions:
"We don't expect that you do this all the time, but we do. Every weekend we are working with different couples and in order to make sure you get what you paid for and also what you want, you need to ask questions. Every vendor is different, so don't assume what you get with one, you will get with the other. Ask questions and be specific with what you want. If you don't know, ask for guidance, ask what your options are. The way your hair and makeup looks, may not be what your certain about that day. So why not be prepared for anything and work with a team of professionals that will be."
-Cater Breakfast or Lunch:
"The preparation can be just as much work and as long as the reception. Feed your bridesmaids and the vendors, they will appreciate it. I'm sure you have been told before, "remember to eat, the day goes quick". The morning preparation and pictures before the ceremony could take several hours. Besides, breakfast is the most important meal of the day. You will have less cranky girls and more supportive bridesmaids. Trust me."
About Pinned and Proper:
Pinned and Proper, is a luxury bridal beauty team of professionals, who will go above and beyond to help you plan the morning of your wedding and provide beauty services that will be an experience to remember. To learn more about Pinned and Proper, visit http://pinnedandproper.com/
About Lauren DeCosimo:
Lauren began her career as a hairstylist in 2001, specializing in bridal hairstyling because it was something she loved and wanted to learn more about. Through years of education and experiences, she established herself as bridal expert in her industry. She has a talent for creating unforgettable moments, for every bride she encounters, and has won many hairstyling and vendor related awards, including "The Knot's" 2014 & 2013 "Best In Weddings" as voted by local brides. To learn more about Lauren DeCosimo and browse her portfolio, visit http://laurendecosimo.com/.